Marrakech New Years Eve 2019
Fireworks, Events, Parties, Hotels, Restaurants, Concerts
Marrakech, Morocco, 31 December 2018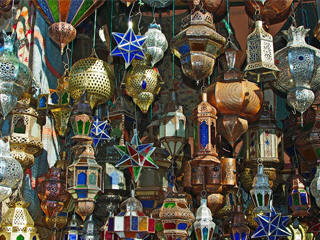 New Years Eve in Marrakech (also sometimes known as Marrakesh) isn't going to be your typical ringing in of the bells kind of an evening, it's place that conjures the ideas of mystery and the exotic.
It was my mother's dream to visit Marrakech, having grown to love the colours and magic of the place through film and TV and I think like many people drawn to this wonderful city, it's a place where we are looking for something that little bit different, something that will be a treasured memory you will talk about for years to come.

With almost a million people calling Marrakech home, there is a vast selection of things to do from the wonderful souk markets of the Medina and Jamaa el Fna square, to visiting the many mosques and palaces. There is the stunning Jardin Majorelle which is a 12 acre garden to walk around and explore and for fashionistas, this is where French fashion designer Yves Saint-Laurent has his ashes scattered.

For a lesson in history go and visit the Saadian Tombs which are said to date back to the late 16th Century and holds around 60 member of the Saadi Dynasty, well worth a visit. Or take a look around the Badii Palace, this ruined palace has a museum to peruse and underground labyrinths taking you to catacombs and dungeons.

For those looking to kick back and relax, there are many spas (hammams) to choose from where you can unwind with massages and saunas, bliss.

As with many places these days, be mindful of your surroundings, keep your valuables safe, there will be pick pockets and scam artists out and about too in the markets and squares, taking advantage of the influx in tourists. One thing to look out for is people who want to pose with you for photos, they will then charge you for the photo, or there are also people trying to exchange dodgy euros, best avoid it if you can.
Things to do
New Years Eve in Marrakech has changed over the years to accommodate the demand in tourist trade, therefore many hotels and restaurants will hold their own celebrations with dinners, parties and fireworks.

If you want to get out an about though, take yourself off to the Jamaa el Fna in the evening for a real feel of Morocco. With story tellers, dancers, henna tattooists, magicians, fire performers and food stalls. This will get very crowded on new years eve with a mixture of locals and tourists and there might just be fireworks at midnight if you are lucky!

There are nightclubs open for the more energetic of us and wonderful rooftop bars around the main square and the Marrakech Medina for some entertainment, drinks and great views over the city.

Many of the best places get booked up rapidly, so book as soon as they announce their events to make sure you save your place.

If you want to delight in some wonderful Moroccan fare, then try out some of these wonderful restaurants sure to set your taste buds alight:

Gastro MK at Maison MK
Amal
Dar Cherifa
Libzar
Pepe Nero
NYE Live Streaming, Webcams
Can't find a live webcam for Marrakech at the moment, we'll keep looking!
New Years Eve Hotels
Marrakech has a wide selection of hotels or Riads to choose from, including these offerings:

Riad Assakina
Riad Kheirredine
Riad Noir d'Ivoire
Riad Dar Anika
Riad Idra
You can search for deals at all of these venues, plus other local hotels here.
Latest NYE News
The content on this page is written and maintained by Yvonne Kerrigan. If you have any comments or events to add to this page please Contact us.