Leeds New Years Eve 2019
Fireworks, Events, Parties, Hotels, Restaurants, Concerts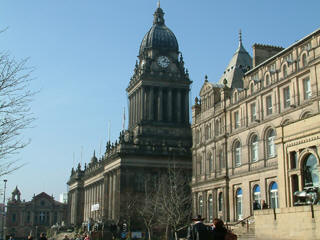 Leeds, as the main city of the populous county of West Yorkshire, is the focal point for festivities in the region, and crowds flock to the city centre as well as popular suburbs such as Headingley, Roundhay and Horsforth for a huge citywide party on New Years Eve, with a fantastic range of restaurants, literally hundreds of bars and clubs providing ample opportunity to build up for the big explosion of the midnight fireworks.
I lived in Leeds for many years and often found one of the best things to do (especially in my poverty-stricken student days!) is to find a decent vantage point and watch the fireworks across the cityscape - there will be thousands being set off from private parties across the area, especially at midnight, so if you're on the higher ground you can get to enjoy them all.
Things to do
The local council so far haven't announced any plans for a specific city centre fireworks display for NYE 2019, and this would be in keeping with previous years, although if nothing official is forthcoming there will be smaller displays held by individual bars and restaurants, so there will still be some bright lights in the sky come midnight. Away from the centre, Roundhay Park is always site of some lively pyrotechnics, so head for there if you don't mind being a little further out.
For a party though so have no such problems, the city centre will be absolutely heaving and you'll be spoiled for choice, but make sure you book in advance as most places will be ticket only. Tiger Tiger is always a favourite.
One of the most popular parties is at The Park Plaza, who are holding their annual New Years Eve party, with a meal at their trademark Chino Latino Restaurant & Bar followed by a dinner dance with live disco and New Years Day brunch. Millenium Square and the Town Hall is always a popular area too and will draw the crowds.
The restaurant scene in Leeds has moved on in leaps and bounds in recent years, and the range is huge. When I lived there I was a big fan of the curry houses in the Headingley area in particular, although I would often head into the city centre too where most the big chains are represented, along with some local favourites - there's even a Jamie Oliver Italian these days. for a full range of Leeds restaurants, along with plenty of special offers visit here.
NYE Live Streaming, Webcams
Places to watch live online:
New Years Eve Hotels
There is no shortage of places to stay in Leeds, from the city centre to the popular suburbs, although early reservation is always recommended. Check out the deals available for top local hotels here.
Latest NYE News
The content on this page is written and maintained by Martin Kerrigan. If you have found it useful then please feel free to share it with your friends and family. If you have any comments or events to add to this page please Contact us.