Hawaii New Years Eve 2019
Watch the fireworks live and find the best parties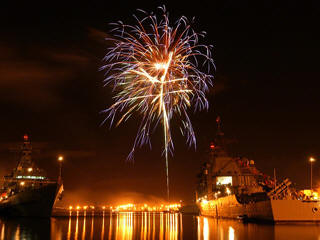 Hawaii is one of the last places in the world to celebrate new year's eve, and does so in fine style with a spectacular fireworks display on the iconic Waikiki Beach, as well as many smaller displays across the various islands and beaches of this remote US State.
It's pretty incredible to think that the new year arrives here a full 23 hours after the whole event gets underway on Kiribati, or Christmas Island, which is only just over 1000 miles away, but I guess that we have to draw the (date) line somewhere. It does however make it perfectly feasible to see in the new year twice by flying back from one to the other, now that would be something a little different to mark the occasion, might have to give it a try one year!
There are also many events taking place on new year's eve in many of Hawaii's top resorts - not that we also now have seperate pages dedicated to new year events on Maui and in Honolulu
Fireworks
You won't have any problems finding a party on New Years Eve 2018-2019 in Waikiki, but it If you do want to go somewhere special, then it is sensible to make sure you book well in advance as the islands all get pretty hectic over the holiday period.
There is no shortage of fireworks displays, with many of the larger hotels holding their own displays, especially those with a beachfront setting.
One of the biggest displays is at the Ko Olina Resort on Oahu, home of the recently opened Disney Aulani Resort which lives up to the Disneyland reputation with a spectacular fireworks extravaganza. The Moana Surfrider on the famous Waikiki Beach offers great views of the fireworks. See more on the new year parties on Waikiki and surrounding areas our Honolulu page.
On Maui there are midnight fireworks launched from a barge anchored offshore - best viewing points are from the coastal region between the Grand Wailea hotel and The Four Seasons. You can see more on our new page on new year's eve in Maui.
On the Big Island, the main fireworks are concentrated in the Kailua-Kona area, while on little Kauai you're best off heading down to Poipu Beach Park where there is music and entertainment throughout the evening prior to the fireworks.
Parties & Events
The annual "Party of the Year" takes place at Kakaako Park and includes a ferris wheel and other carnival rides, food trucks and live DJs and bands providing the music. There will also be fireworks displays every hour from 9pm, culminating in the main display at midnight.
Elsewhere, many people just head straight to the beach for their own private beach party, with visitors in particular enjoying the opportunity to be outdoors at an unusually unseasonable time - there are large numbers of arrivals from the US in particular at this time of year.
New Years Eve and Chinese New Year are both very special occasions in Honolulu, as the locals seem to enjoy their status as the last major global location to welcome the new year. You'll find street parties, festivals and parades, with December 31st a veritable feast of parades and partying around the streets of Honolulu.
NYE Live Streaming, Webcams
There are several live webcam views in ideal positions to watch the new year's eve firwworks in Hawaii, including a live camera at Waikiki Beach:
There is also an excellent live streaming cam at the Waikiki Beach Marriott Resort, directly overlooking the famous Kuhio Beach:
There may also be live TV coverage of the main display, we'll post any links we find here, so check back on new year's eve for details.
New Years Eve Hotels
If you're planning on visiting Hawaii over the New Year period, then early reservation is strongly recommended, especially for more popular venues such as the Sheraton Waikiki.
You can search, check availability and book local hotels here.
Latest NYE News
The content on this page is written and maintained by Martin Kerrigan. If you have found it useful then please feel free to share it with your friends and family. If you have any comments or events to add to this page please Contact us.