Honolulu New Years Eve 2018
Fireworks, Events, Parties, Hotels, Restaurants, Concerts
Waikiki, Honolulu, Oahu, Hawaii, 31 December 2017, Midnight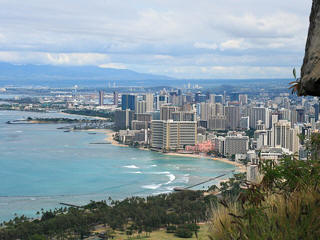 Honolulu was previously included as a new year's eve location on our Hawaii page, but the continued growth and popularity of the new year parties in the town, and around Waikiki Beach with the famous fireworks in particular, means we've decided ot worthy of a page all of it's own, so here it is!
Honolulu is located on the south shore of the Hawaiian island of Oahu, and is famous for it's beaches, not just Waikiki but also the nearby Kuhio Beach, Gray's Beach, Fort DeRussy Beach and Kahanamoku. The resorts of Honolulu are a popular new year's choice with visitors from the United States mainland in particular, looking for some winter sunshine along with a great range of lively parties and top level luxury pampering.
New Year Fireworks, Events, Parties
Hawaii is the last big populated area in the world to see in the new year, soa always attracts a good deal of international attention. The main new year's eve fireworks in Honolulu are of course down at Waikiki Beach, or to be more accurate, launched from a barge moored offshore. Crowds estimated at over 100,000 people gather to watch the show.
The show actually gets underway shortly before midnight, with a single fireworks being launched every minute from 11.55pm to help build up the suspense, then when midnight strikes the main fireworks are launched.
The best viewing areas for the fireworks are along Waikiki Beach itself and also anywhere in Kakaako Waterfront Park, although there are some hotels and bars that also afford an excellent view, including the Moana Surfrider, the Hilton Hawaiian Village Waikiki Beach Resort, Tropics Bar and Grill and Barefoot Beach Cafe.
If you're feeling a bit more adventurous you might like to consider a trip up to Mount Tantalus, from where you'll have a unique panoramic coastal view to see the fireworks from a distance.
Away from the main fireworks there is also a big new year party worthy of mention at Aloha Tower Marketplace, where the modestly titled Party of the Year takes place, featuring live music and entertainment plus fireworks of course - get more details and tickets here.
There are spectacular fireworks views to be had from the Top of Waikiki restaurant, a revolving restaurant with spectacular 360 degree views, where you can accompany your fireworks views with fine dining and champagne.
For a more complete range of all the new year parties in Honolulu check out the listings on the excellent Oahu Vacation Guide.
NYE Live Streaming, Webcams
There is likely to be some live TV coverage of the fireworks with this being such a popular destination, if we find a live stream we will post it right here.
In the meantime there are some excellent views to be had from several local webcams, with Waikiki beach a particularly popular focal point:
New Years Eve Hotels
Honolulu hotels tend to be a little pricey at the best of times, and over Christmas and new year this is definitely the case, so we advise you make your reservation well in advance to avoid disappointment, especially if you're interested in one of the hotels with rooms with fireworks views.
You can search for deals at all popular local hotels here.
Popular Pages
The content on this page is written and maintained by Martin Kerrigan. If you have any comments or events to add to this page please Contact us.