Glasgow New Years Eve 2019
Fireworks, Events, Parties, Hotels, Restaurants, Concerts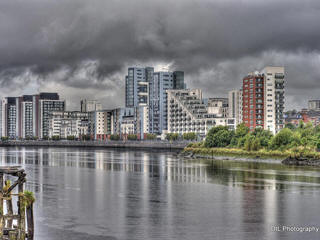 If you mention spending new year's eve in Scotland then it's likely most people will assume you're off to the big Hogmanay party in Edinburgh, but its important to remember that Hogmanay is just the Scottish word for new year's eve and you'll find parties to mark the occasion in towns, cities and villages all across the country.
In terms of population Glasgow is actually Scotland's largest city with well over half a million residents so the size and range of new year parties are a match for those found in major cities anywhere in the world.
The Scots may have voted against independence at this stage, but they remain a proudly patriotic people and you'll find this highlighted in their NYE celebrations, with kilts and traditional highland style dancing in plentiful evidence, and many a dram of whisky being raised in toast at midnight.
George Square Fireworks
In previous years there was always the biggest party in Glasgow in the city's famous and iconic George Square, where people would gather for a party throughout the evening leading up to a spectacular fireworks display at midnight.
This has changed in recent years however and, largely due to issues around funding and crowd control, the event here now only lasts until 10pm in the evening.
That's not to say it isn't worth attending though, and no new year's eve visit to Glasgow would be complete without calling in to George Square at some point to soak up the atmosphere and enjoy a range of entertainment that still includes live music, highland dancing, ceilidh bands and arts and crafts demonstrations to help keep the kids entertained. There's also of course a plentiful supply of traditional Scottish food and drink.
Parties & Events
This year there will be a street party in Ashton Lane, which also promises a small scale fireworks display at midnight.
If you want to see some larger and more spectacular fireworks at midnight though you'll need to head elsewhere and with a number of bars and hotels holding their own displays, plus of course the many private parties, anywhere with a decent view should see plenty pyrotechnics to witness. An especially good vantage point is up in Ruchill Park, which offers fabulous views not just of Glasgow city but Campsie hills and Cathkins Braes too.
Back in town, there is an absolute plethora of parties to choose from and the city will be bouncing well into the early hours. Top recommended venues include Oran Mor in the West End, King Tut's Wah Wah Hut near Argyle Street and Tellers @ The Corinthian in Merchant City.
If you prefer a quieter evening dining out with family and friends, or are just looking for somewhere to fuel up before hitting the town then there are plenty of restaurants to choose from across Glasgow. Top choices include Brown's Stravaigin and Mother India's Cafe. Glasgow also has a perhaps surprisingly vibrant vegan dining scene, and you can choose from 13th Note, Byblos Cafe, The 78, Mono as well as a few others. See the full range of Glasgow eateries to consider for your Hogmanay feast here.
NYE Live Streaming, Webcams
Places to watch live online - there are several well positioned cameras in Glasgow to help you take in the new year festivities, including a couple actually situated in George Square itself:
New Years Eve Hotels
Glasgow's hotels range from very basic hostel style accommodation to some of the best 5 star venues you'll find anywhere, so you'll be able to find a bed for new year here no matter what your budget. I'm a particular fan of the newer hotels located in the regenerated areas along the River Clyde. For availability and reservations you can book local hotels here.
Latest NYE News
The content on this page is written and maintained by Martin Kerrigan. If you have found it useful then please feel free to share it with your friends and family. If you have any comments or events to add to this page please Contact us.