Birmingham New Years Eve 2019
Centenary Square fireworks, top hotels & restaurants for new year's 2018-2019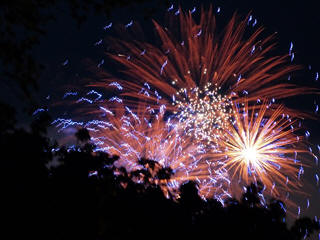 New year's eve in Birmingham offers a wide range of parties and events, with the highlight being the big public party and midnight fireworks display in the city's Centenary Square,
Elsewhere across the city there are lively parties in the many bars & clubs, while the many top hotels in the city centre host a number of special new year events, including gala dinners with fine dining and a range of live entertainment.
Centenary Square Fireworks
The big New Years event in Birmingham is without doubt the midnight firework display in Centenary Square right in the heart of the city, which attracts families and party-goers alike to the city centre to take part in the countdown and enjoy the spectacle together - this is set to return for NYE 2019, so you just need to hope for good weather!
The Centenary Square party includes a big wheel, ice rink and of course the fireworks at midnight. There are plenty of bars in the area, many offering decent fireworks views, so you sbouldn't have too many problems getting a drink and watching the show.
Bars & Clubs
In the wider city area, Birmingham has a pretty wide range of nightclubs these days, and with bars with late licenses competing for business there really is a huge range of options to choose from. Top NYE parties for 2018-2019 include Bar Risa, Bliss Clubrooms and Flares Nightclub
Away from the main events, families in the area tend to spend the evening in their local bars, which avoids the trouble and expense of commuting to the city centre, which is more the preserve of the younger crowd at this time of year so nearby towns such as Halesowen, Solihull, Dudley, West Bromwich and Wolverhampton are all worth a look if they're easier for you to get to.
New Years Eve Hotels
Birmingham boasts a remarkable range of accommodation, from humble guest houses and serviced apartments to family run bed and breakfasts right up to major international chains and 4 and 5 star luxury establishments.
Many of the hotels offer special new year's eve packages, where reduced room rates are available if booked in conjunction with tickets for the new year party.
Booking early is recommended. Check availability and book local hotels here.
Restaurants
Birmingham really is a cosmopolitan city so you'll be able to find a meal out whatever your preference, although on a personal note I have to recommend the local curries as some of the best in the country, especially at the well known Asha's Contemporary Indian on Newhall Street and Spicemenu, which offers fusion Asian cuisine.
For all the top Birmingham restaurants, with online booking and customer reviews click here.
NYE Live Streaming, Webcams
Without any live TV coverage of the fireworks (although local news channels will certainly have highlights pretty quickly after midnight) the best bet for seeing some live action is to check in on some of the local webcam views.
There are several located in the city centre of Birmingham, including a live stream from the Bullring:
Latest NYE News
The content on this page is written and maintained by Martin Kerrigan. If you have found it useful then please feel free to share it with your friends and family. If you have any comments or events to add to this page please Contact us.