Belfast New Year's Eve 2019
Guide to the top new year's eve parties, events, hotels & restaurants in Belfast for NYE 2018-2019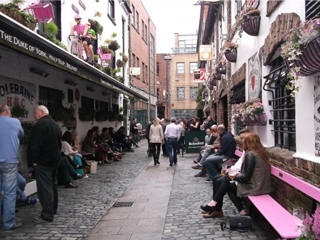 Belfast on new year's eve hosts it's own big Hogmanay party, with the city's top hotels, bars and restaurants all helping to get the party started.
Visit one of the many museums, including the modern Titanic Museum, take a cookery class, go see a panto or a comedy show, visit the Christmas Market at Belfast City Hall, or St Georges Market (open until Christmas Eve) take a tour through Belfast Castle, enjoy a festive afternoon tea, there is so much to see and do!
Feeling fit, then visit the SSE Arena for a couple of hours of ice skating and then enjoy one of the Belfast Giants Ice hockey games or keep an eye on the rugby fixtures to see what matches are on during your stay. Up for a walk, then go see the Giant's Causeway that'll brush away the cobwebs, especially in Winter.
Let's be fair now, if you are in Belfast and feeling festive, then you really have to try one of the pub tours, see some real gems within the city whilst sampling a pint or three!
Things to do
Belfast doesn't really go in for public events on new years eve so don't expect fireworks or large public gatherings. Everything seems to happen indoors and you won't be disappointed with the choice of events around the city.
There are a lot of Black Tie events that go on through Belfast, so if you want to get dressed up to the nines and bring in the new year sipping on champagne in some of the cities top venues Gala evenings, then get your ticket well in advance.
Bars, restaurants and clubs will all be advertising their New Years Eve events, so get your friends together and start planning and booking what you are doing to bring in the New Year!
There are hundreds of places to grab something to eat in Belfast, here are just a few to get you started:
Holohans Pantry
Ginger Bistro
The Muddlers Club
Howard Street
Molly's Yard
NYE Live Streaming, Webcams
Can't seem to find any live or working webcams at the moment for Belfast, I'll keep you updated it I find one.
New Year's Eve Hotels
You're in for a real treat as there are some gorgeous hotels in Belfast for you to choose from:

Merchant Hotel
Benedicts of Belfast
The Fitzwilliam Hotel Belfast
Stormont Hotel
Clayton Hotel Belfast
You can search for deals at all of these venues, plus other local hotels here.
Latest NYE News
The content on this page is written and maintained by Yvonne Kerrigan. If you have any comments or events to add to this page please Contact us.