Hong Kong Chinese New Year 2018
Fireworks Live Stream, TV Coverage, Webcams, Start Time
Hong Kong Island, China, 29 January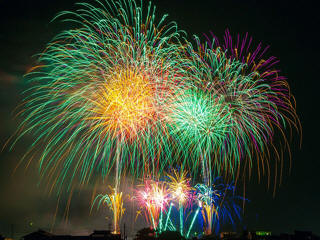 The Chinese Lunar New Year takes place on a different date each year, a clear differentiation from the Gregorian event you may be more familiar with, that adheres faithfully to it's 31st of December alloted station. This year it takes place on the 8th February, over a month after the traditional NYE, although the main fireworks display over the island's famous Victoria Harbour typically doesn't take place until a day later. This is part of a series of celebrations that last a total of 15 days,
Hong Kong, existing as it does in something of a unique cultural blend, is one of the few locations world wide that celebrates both events with equal relish - there are still a large number of westerners on the island as a residue of it's recently ended colonial days, while the influx of new residents from nearby China means that the Chinese New Year celebrations continue to grow and expand in popularity.
Fireworks Schedule
There are 2 main events to celebrate Chinese New Year in Hong Kong - the Lunar or Night Parade and the fireworks display. The fireworks are launched over Victoria Harbour, in the region between Central and Tsim Sha Tsui.
The Hong Kong Chinese New Year fireworks display over Victoria Harbour then takes place on the evening of the day after the lunar parade, which in 2018 will be the 29th January.
The schedule of the main events for the 2018 Chinese New Year in Hong Kong is:

Jan 29: Fireworks display over Victoria Harbour
Jan 30: Spring Festival Races at Sha Tin Racecourse
Live Streaming, Webcams
Places to watch live - there are a number of live webcams positioned around Hong Kong, and a couple looking over Victoria Harbour in particular that should offer an excellent view of the fireworks:
To see coverage of previous new years events in Hong Kong, including the lunar parade and fireworks, there is an excellent selection of user-recorded videos on Youtube:
Hong Kong Chinese New Year on Youtube
New Years Eve Hotels
If you're planning on visiting Hong Kong over the Chinese New Year period, then early reservation is strongly recommend. You can search, check availability and book local hotels here.
Popular Pages
The content on this page is written and maintained by Martin Kerrigan. If you have found it useful then please feel free to share it with your friends and family. If you have any comments or events to add to this page please Contact us.