Hong Kong Chinese New Year Fireworks 2018
Watch the Chinese new year fireworks live stream from Hong Kong's Victoria Harbour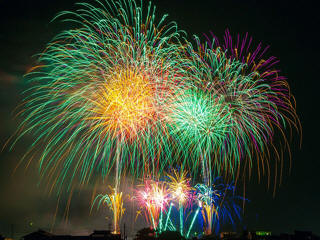 Latest: The Chinese new year fireworks have been CANCELLED for this year. The night parade will still go ahead as usual.
The Chinese New Year fireworks over Victoria Harbour in Hong Kong this year take place on Saturday 17th February, one day after the famous lunar new year night parade.
The party also includes the Symphony of Lights display, using the harbour as a stage for a spectacular laser and LED show and the Hong Kong Pulse 3D Light Show at the Hong Kong Cultural Center near the Star Ferry.
Fireworks Schedule
The fireworks this year take place on the evening of Saturday 17th February, getting underway at 8pm.
The fireworks are launched over Victoria Harbour, in the region between Central and Tsim Sha Tsui. One of the best viewing spots os from the Avenue of Stars. Other popular vantage points include the IFC Tower and Golden Bauhinia Square in Wan Chai.
The Chinese new year fireworks follow on from the spectacular Night Parade that takes place the previous evening - you can get all the latest information on this year's lun ar new year parade here:
Hong Kong Lunar New Year Night Parade
Live Streaming, Webcams
There are a number of live webcams positioned around Hong Kong, and a couple looking over Victoria Harbour in particular that should offer an excellent view of the fireworks:
There is also likely to be live coverage and online streaming provided by the local TV channels, with TVB Jabe in particular sure to be in attendance - we'll post the live stream links her eonce we have them.
Chinese New Year Hotels
If you're planning on visiting Hong Kong island during the Chinese New Year period, then early reservation is strongly recommended to secure one of the best hotels. Many of the more popular places will also opffer package deals including accommodation and new year parties and dinners, so check for any available offers at your chosen location.
You can search, check availability and book local hotels here.
Latest NYE News
The content on this page is written and maintained by Martin Kerrigan. If you have found it useful then please feel free to share it with your friends and family. If you have any comments or events to add to this page please Contact us.