Hong Kong Chinese New Year Night Parade 2018
Live Stream, TV, Start Time, Schedule, Webcams
Hong Kong Island, China, 28 January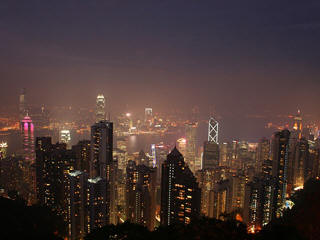 The Cathay Pacific International Chinese New Year Night Parade is one of the 2 main events to celebrate Chinese New Year in Hong Kong, the other being the Victoria Harbour fireworks display.
Probably the single most popular HK new year celebration however is the iconic Cathay Pacific International Chinese New Year Night Parade, starting at 8pm. There is a nominal finish time of 9.30pm, but if you're in the area then the party is sure to continue beyond that well into the night.
Night Parade Route, Schedule
The parade travels through the streets of Tsim Sha Tsui and is made up of a series of colourful, illuminated floats, and the whole area becomes one huge party as locals and visitors alike take to the streets to watch.
As well as the floats, there will be a number of other participants, including visitors form around the world. These include dance troupes, including of course the famous dragon and lion dancers, marching bands, stilt walkers, drum bands and hip-hop and jazz dancers.
The full schedule of the main events for the 2018 Chinese New Year Night Parade in Hong Kong is:

January 28: Night Parade. Entertainment starts from around 6pm, the main parade gets underway at 8pm and lasts for about 90 minutes

TV and Live Streaming
In 2017 the TVB Jade Hong Kong television coverage of the night parade was also available online, and it looks like they will be showing all the main events this year too:
The official site also has some excellent views captured by Google Street View during the 2013 Night Parade and also at the Victoria Park Lunar New Year Fair - view them here:
Chinese New Year on Street View
To see coverage of previous new years events in Hong Kong, including the lunar parade and fireworks, there is an excellent selection on Youtube:
Hong Kong Chinese New Year on Youtube
New Years Eve Hotels
If you're planning on visiting Hong Kong over the Chinese New Year period, then the hotels will be very busy and premium rates will apply accordingly. The best deals can generally be obtained by booking well in advance.
You can search, check availability and book local hotels here.
Popular Pages
The content on this page is written and maintained by Martin Kerrigan. If you have found it useful then please feel free to share it with your friends and family. If you have any comments or events to add to this page please Contact us.