Crested Butte New Years Eve 2018
Fireworks, Events, Parties, Hotels, Webcams, Restaurants
Crested Butte, Colorado, 31 December 2017, Midnight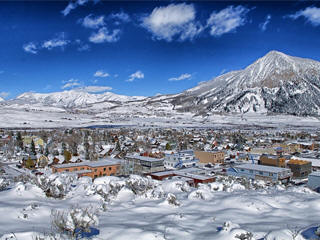 Crested Butte, also know as "the last great Colorado ski town" is located in Gunnison County, Colorado. The local ski resort is Crested Butte Mountain Resort, great for skiing and snow boarding and especially popular with extreme skiing due to its terrain.

Jump on the Silver Queen lift on Crested Butte mountain will take you up to the heady heights of 11,875 feet so you can marvel at the stunning view of the valley and mountain peaks.

Other activities you can enjoy include fat biking (great for snow), snow shoeing, Nordic skiing, winter zipline, cros country skiing, or relax and visit the Moutain Heritage museum, the Center for the Arts Crested Butte or take to one of the spas for a day of relaxation.
New Year Fireworks, Events, Parties
Crested Butte is a beautiful, picturesque place to bring in the new year. If you are lucky enough to be here for New Year, then you can enjoy the torchlight parade, where instructors descend from the mountain top with only their torches giving an ethereal spectacle on the slope. There is also fireworks to around 5.30pm to enjoy so head to the bottom of the mountain for the best view.

Butte 66 deck seems to be the most recommended viewing spot for the fireworks, but it's also going to be the place that people will flock to as there is also live music and a great party atmosphere. You should really be able to see the fireworks if you are located near the area, so don't fret if you don't make it to Butte 66.

The whole town is usually adorned with holiday lights and many of the bars have New Years Eve parties, remember to check if you need to book in advance for admission.

If you fancy dining out in Crested Butte, there are some gorgeous eateries, including:

Secret Stash
Montanya Distillers
Ryce Asian Bistro
Teocalli Tamale
Django's Restaurant & Wine Bar
NYE Live Streaming, Webcams
I spotted a live webcam for the Crested Butte Base, where you can get a good look at the area:
New Years Eve Hotels
There are so many picture perfect places to stay in Crested Butte, make sure you book in plenty of time to secure the accommodation you want. Here are just a few to get you started:

Grand Lodge Crested Butte
The Elevation Hotel & Spa
Lodge at Mountaineer Square
Plaza Condominiums
Nordic Inn
You can search for deals at all of these venues, plus other local hotels here.
Popular Pages
The content on this page is written and maintained by Yvonne Kerrigan. If you have found it useful then please feel free to share it with your friends and family. If you have any comments or events to add to this page please Contact us.