Zurich New Year's Eve 2019
New Year's Eve Magic, top fireworks, parties & restaurants for NYE 2018-2019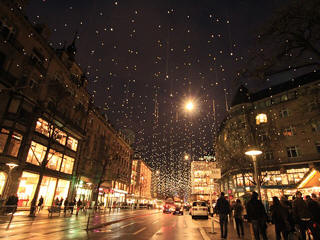 The main focus in Zurich on new year's eve is the New Year's Eve Magic party, which brings huge crowds of locals and visitors down to the shores of Lake Zurich for an evening of partying, with live entertainment, plentiful food and drink and a truly spectacular new year fireworks display.
Zurich has an ideal setting for a New Years Eve celebration, with Lake Zurich providing an ideal central gathering area, while the nearby mountain peaks of Pfannenstiel, Etzel, Felsenegg, Uetliberg, Kaferberg and Schnebelhorn provide the perfect scenic backdrop for the new year fireworks.
New Year's Eve Magic
New Year's Eve Magic has been welcoming the new year in Zurich for many years now, and continues to grow in popularity, attracting an attendance of around 100,000 to this incredible NYE festival based around the Lake Zurich basin.
The event gets underway at 8.00pm on the 31st December and occupies a large area around the Lake basin. Entranc to the main festival area is free, but there are VIP areas at the Magic Lake Zone and the Guest Tent which do require tickets. The party continues until 3am on new year's day, with pulbic transport running until 4am to help make sure everyone gets home safely.
There is plenty of food and drink available from numerous vendors throughout the evening, and live entertainment across various stages - we'll bring you the lineup of performers for this year as soon as we have it.
The climax of New Year's Eve Magic is of course the spectacular fireworks display, sponsored by Swiss casino Zurich. and although there is a countdown to midnight the actual fireworks somewhat unusually don't start until 20 minutes past, and continue for a full 15 minutes.
Best Fireworks Viewing
The fireworks are launched from 3 ships on the lake, so can be viewed from pretty much anywhere along the lake shore line. If you prefer a more panoramic view then you can head a little further out to Ziegel-au-Lac, Hafen Enge, Bad Mythenquai, or Church Wollishofen, from where you can see the fireworks from a more elevated poition.
There is even an option to head all the way out to Uetliberg Kulm, which has the added advantage of trains running back down into the city throughout the night.
New Year's Eve Lake Cruise
With Lake Zurich being the site of the main new year fireworks then it surely make sense to actually head out onto the water for your NYE party. There are several options for a new year's eve lake cruise - one excellent option is the 5 hour party with live entertainment and a fabulous dinner on the MS Panta Rhei.
You can get full details and buy tickets online here.
New Year Restaurants
There is of course no shortage of top dining options in Zurich, and most will be offering special festive menus.
One top choice is to head out to Uto Kulm, overlooking the lake and offering a new year gala dinner with a perfect view of the fireworks. Get the full event details and reserve your table here.
New Year's Eve Hotels
The prime hotel options in Zurich for new year are obviously those that have rooms with a view over the lake so you have the option of watching the fireworks from the comfort of your own room. Options to check out in this category include the Steigenberger, Dolder Grand and Ede au Lac.
For the full range of Zurich new year accommodation, including hotels, guest houses, apartments and chalets, visit local hotels here.
NYE Live Stream, Webcams
There may well be local TV coverage of the fireworks on new year's eve - we'll post any links we find here.
In the meantime, an alternative option is to check out some of the live streaming webcam views in and around the Zurich area:
Latest NYE News
The content on this page is written and maintained by Martin Kerrigan. If you have found it useful then please feel free to share it with your friends and family. If you have any comments or events to add to this page please Contact us.