Winnipeg New Year's Eve 2019
Guide to the best new year parties, fireworks and events in Winnipeg for NYE 2018-2019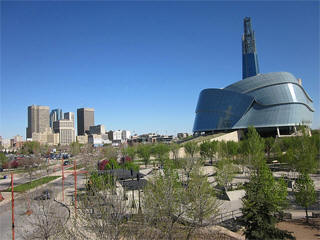 Winnipeg on new year's eve sees a family friendly new year party brining the crowds downtown to welcome the new year at the Fork's Family New year's Eve celebration, featuring food, drink, live entertainment and of course spectacular fireworks.
Winnipeg is bursting with culture and if you are here for new year's eve, you will be spoilt for choice when it comes to activities during your stay in this winter wonderland.
The streets are lined with Christmas lights, trees and decorations and if you are there earlier in December, then don't forget to peruse the Christmas markets, including the fabulous Christkindlmarkt in Fort Garry Place Mall.
Wrap up warm and get out exploring the city's historical offerings, like the Forks National Historic site, Le Musee de Saint-Boniface Museum and the grand Manitoba Legislative Building to more modern locations like the Canadian Museum for Human Rights (which is a must see when you are in Winnipeg), the Manitoba Planetarium and of course there is the Royal Canadian Mint.
Winnipeg is perfect for those who love to keep active, so get out there and enjoy some cross country skiing, sledding, hiking, snow shoeing, tobogganing and skating and if you are a bit of a daredevil and fancy some ice climbing, then Saturday and Sunday will find the Club d'escalade de Saint-Boniface Ice Tower open at 141 Messager Street and it looks awesome (open end of December)!
Forks Family New Year's Eve
The Forks in downtown Winnipeg is the place where many people gravitate towards on new year's eve with family friendly fun starting around 4pm with a countdown and fireworks for the youngsters at 8pm as well as the midnight fireworks.
There is live music, ice skating and lots of fun activities for all the family. Entertainment throughout the evening also includes ball hockey and snow scuplting, plus games for the kids.
Crowds are estimated at around 30,000 at this event, although numbers were down quite considerably last year due to the excessivelt cold weather - we hope to see things back to normal for new year 2019!
Manitoba Children's Museum NYE Party
Another option for families with children to entertain, the annual new year's eve event at the Manotiba Children's museum offers live musical entertainment, snacks, special guests and family souvenir photos.
There is also a balloon drop to celebrate the new year only 12 hours early, at noon.
Winter's Eve at RBC Convention Centre
If you are feeling fancy then perhaps you may prefer the RBC Convention Centre's Winter's Eve - A New Year's Celebration, with gourmet dining, entertainment and dancing.
Tickets will go quickly so make sure to book in advance - we'll have the link for online ticket sales as soon as it's available.
NYE Restaurants
The bars, clubs and restaurants have some great events lined up, from Murder Mystery evenings, to Gala dinners where you can toast the new year with a glass of champers!
Many of these venues are tickets only and due to popularity will be booked up fairly quickly, so get your tickets and reservations in as soon as you can.
529 Wellington
Enoteca
Velvet Glove Restaurant
Maxime's Restaurant & Lounge
Segovia Tapas Bar and Restaurant
New Year's Eve Hotels
With so much going on in Winnipeg for New Years Eve, so it's best to book your hotel in advance so you can be located close to your planned festivities.
The Marlborough Hotel
Delta Hotels by Marriott Winnipeg
Fort Garry Hotel
Fairmont Winnipeg
Mere Hotel
To check availability and make reservations at these and all the top hotels in the area, you can make online bookings here.
NYE Live Stream, Webcams
There isn't much in the way of live coverage from Winnipeg on new year's eve, with the best option a live webcam view where you might catch sight of some fireworks.
This is the best live webcam stream we can find for Winnipeg:
Latest NYE News
The content on this page is written and maintained by Yvonne Kerrigan. If you have found it useful then please feel free to share it with your friends and family. If you have any comments or events to add to this page please Contact us.