First Night Williamsburg 2019
New year's eve 2018-2019 fireworks, celebrations, parties & First Night tickets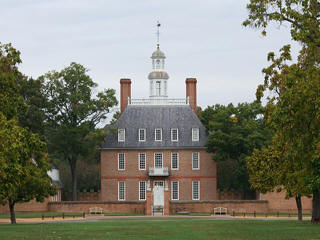 Williamsburg in Virginia holds their increasingly popular family friendly and alcohol free First Night celebration every new year's eve, drawing crowds from the local area and further afield for a good old fashioned American style party, with plentiful music, dancing and of course fireworks.
First Night in Williamsburg is particularly popular with exiles from Washington and the DC area looking for some fireworks to greet the new year, it's only a couple of hours drive away and offers the added opportunity to take in some of the enduringly popular tourist sites of Colonial Williamsburg.
Things to do
First Night Williamsburg is of course the main attraction here, and the celebrations are cented on the campus of the College of William & Mary, although there are also events at other venues throughout town.
Unlike some First Night parties this is not a free event, so you will need to purchase tickets, which some in the form of an admission button. Prices are $20 for adults, $10 kids aged 3-13 with younger kids free. There is also a family ticket option at $50 - you can buy your buttons online here.
Events get underway at 3pm and include a range of live music and entertainment, all culminating in the midnight fireworks display, which are launched from William and Mary Hall but best viewed from the Zable Stadium. There is also an earlier children's firework display at Matthew Whaley Elementary School at 7pm.
There will be plenty of food on offer from the vendors at the First Night party but if you fancy something a little more formal to get your evening underway there are of course a plethora of dining options in Williamsburg, with most tastes more than adequately catered for. See the full range of local eateries here.
NYE Live Streaming, Webcams
We haven't been able to track down much in the way of live coverage but there are some fabulous webcams streaming live from Colonial Williamsburg - not much use for watchnig fireworks but well worth a look all the same:
New Years Eve Hotels
As quite a small town the hotel accommodation in Williamsburg is somewhat limited in relation to the numbers of visitos who head to town over the new year period, so if you're planning on staying over it's wise to book well in advance.
You can search for deals at all the best local hotels here.
Latest NYE News
The content on this page is written and maintained by Martin Kerrigan. If you have any comments or events to add to this page please Contact us.