Wellington New Years Eve 2019
Fireworks, Events, Parties, Hotels, Restaurants
Wellington, New Zealand, 31 December 2018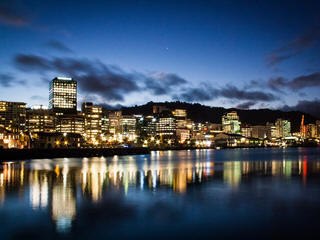 Heading to New Zealand for new year's eve is an enduringly popular option for those who like to have warm weather over the festive season, and the nation's capital city of Wellington is a popular choice with those who like to combine their new year celebrations with some sightseeing and a proper holiday.

Although many locals head off to more touristy or beach based venues for their new year parties - places such as Nelson, Hawkes Bay, Taupo and Tauranga are very popular choices - there will still be enough going on in Wellington to keep you entertained over the Christmas and new year period.

As well as the new year parties and fireworks be sure to make the most of your trip by checking out some of the local attractions - the Lord of the Rings location tour is always worth a look, while visits to the Museum of New Zealand, the ZEALANDIA Sanctuary, Wellington Botanic Gardens and Mount Victoria are all highly recommended.
Things to do
The big new year's eve public party in Wellington this year is a family friendly event that takes place around Whairepo Lagoon in the city's famous Frank Kitts Park, right on the Wellington Waterfront. The location makes it ideal for those who want to enjoy an early dinner in the city then wander down to the waterfront to watch the fireworks.

This party is organised by the Wellington City Council and offers free admission for an evening of live music and dancing in the park starting at 8pm, with performers this year including the Wellington Shake-Em-On-Downers and the Roger Fox Big Band.

There are also 2 fireworks displays - a smaller, earlier display at 9pm aimed at those families with younger kids who don't want to be out too late, followed by the main display at midnight. The fireworks aren't on the scale of the likes of Sydney but are still a pretty impressive sight all the same. The event concludes after the midnight fireworks.

Your evening doesn't have to end there though, the bars and clubs of Wellington host a number of parties that will take you right through to the small hours of new year's day. One very popular choice is the massive The Day Before Next Year new year's eve rave at The Grand on Courtenay Place - this offers a lineup of top DJs from across New Zealand and runs from 8pm right through until 3am. Ticket details to follow.

There are also plenty of restaurant choices for your new year's eve dining - popular choices include Logan Brown, Hippopotamus Restaurant & Cocktail Bar, Cin Cin Italian, Boulcott Street Bistro and Hummingbird Eatery & Bar - check out all the top options, with online booking also available here.
NYE Live Streaming, Webcams
If you would like to check out the scenes in Wellington on new year's eve there are several live streaming webcam views well worth checking out, including some harbour views that should capture the fireworks:

Wellington webcams
New Years Eve Hotels
There are plenty of hotels choices in Wellington, and the walkable nature of the city makes it fairly easy to find somewhere located close to the main new year celebrations. Top recommended places to check out include the InterContinental Wellington, West Plaza Hotel, Gilmer Serviced Apartments, Novotel Wellington and the Travelodge.
To check availability and make reservations at these and all the top hotels in the area, you can make online bookings here.
Latest NYE News