Warsaw New Years Eve 2019
Fireworks, Events, Parties, Hotels, Restaurants, Concerts
Warsaw, Poland, 31 December 2018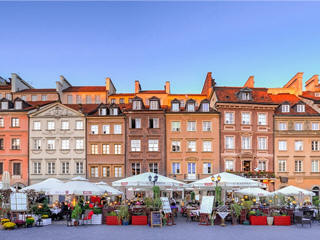 You might want to pack your winter warmers for New Year in Warsaw. This beautiful Polish City has a winter wonderland look throughout December with festive lights strung throughout the streets, Christmas Trees and the old town has its very own Christmas Village.
There tend to be 3 Christmas markets to wander around, including the Old Town Market Square, Castle Square and the Palace of Culture and Science. You will also come across and Ice Rink or two where you can get your skates on (or hire them if you don't have your own!)

Warsaw is a great place for exploring. The architecture, beautiful parks like Łazienki Park and a plethora of museums will keep you occupied throughout your stay. Take a walk around the Old Town with a lovely variety of cafes and shopping, visit Castle Square, go and see the Palace of Culture and Science and visit the observation deck for some stunning panoramic views over Warsaw, and if you are so minded (which I am) head to one of the Vodka bars to sample their wares… I've enjoyed many a shot with some outrageously tasty flavours!
Things to do
If you find yourself in Warsaw for New Years Eve then venture towards the Old town with epic fireworks illuminating the Vistula River. For a big party vibe Defilad Square may be for you, it will be packed with people and has live music entertainment from some great Polish stars and of course more fireworks to see you into the new year.

Most of the cities bars, clubs and restaurants arrange pre-paid for events for Sylwester (New Year) so you really need to make sure you check with the venues before you turn up, it's likely you'll need a reservation or buy a ticket in advance.

But take to the streets and make your way to the Old Town Square, grab a drink, laugh, dance and be merry!

The restaurants in Warsaw will be busy for New Years Eve (Sylwester) so make sure to make your reservations well in advance:

Polska Rozana
Hoza
N31 Restaurant & Bar
Delicja Polska
Stary Dom Restaurant
NYE Live Streaming, Webcams
There is a great webcam with a panoramic view over Warsaw:
Another of the Old Town Market place:
New Years Eve Hotels
Thousands of people flock to Warsaw for New Years Eve so book your hotel room as soon as you can, they will fill up very quickly:

H15 Boutique
Hotel Rialto
Mamaison Residence Diana Warsaw
Polonia Palace Hotel
Mercure Warszawa Centrum
You can search for deals at all of these venues, plus other local hotels here.
Latest NYE News
The content on this page is written and maintained by Martin Kerrigan. If you have any comments or events to add to this page please Contact us.