Virginia Beach New Years Eve 2019
Fireworks, Events, Parties, Hotels, Restaurants, Concerts
Virginia Beach, Virginia, 31 December 2018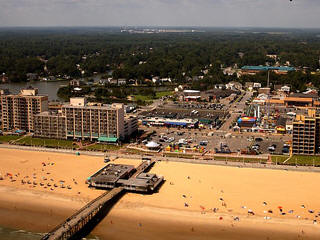 With a fantastic location on the Atlantic coast, and within reasonable driving distance of the huge metropolitan areas of New York, Washington DC and Philadelphia, Virginia Beach is a popular playground for escapees from the big cities, with a holiday and hotel infrastructure to support large numbers of visitors, and a reputation for catering for the finer things in life that only adds to the appeal.
This makes it an increasingly popular new year's eve destination, one of the few times when the working population of the United States eastern seaboard are allowed any appreciable holiday time to spend with their families, sp large crowds tend to head down here throughout the Christmas and new year holiday period to enjoy some much needed rest and relaxation.
Things to do
The big event in Virginia Beach for new year's eve 2019 is the Last Night on the Town party, a free, family-focussed event taking place at the Town Center and at Pembroke Mall.
The event is expected to draw large crowds, and includes entertainment throughout the day, with performances geared to the kids earlier on in the day, leading up to the first countdown at 5pm.
Later on, there will be live music and entertainment throughout the evening, with special deals also offered at the local hotels and restaurants to help keep people in the area. Headline music acts play during the evening (details to follow) and the climax of the event will of course be at midnight, when there will be a spectacular light show (an increasingly popular fireworks substitute) at the Countdown Square Stage.
Elsewhere in Virginia Beach you can also expect an exciting range of parties to select from at the various bars and clubs. One top event is the new year party at Peabody's Nightclub, while a little further afield in Norfolk there are big events at The Norva, Spirit of Norfolk and Lola's.
With the location of the coast and bay then another popular new year option is to take to the water for a new year's eve cruise. Many people head to nearby Norfolk, where there are a number of possbilities to choose from. We especailly like the look of the Spirit of Norfolk options, which include a NYE Lunch Cruise, New Year's Eve Dinner Cruise with buffet dining, DJ music for dancing and awesome views of the Navy' s Atlantic Fleet and even a New Year's Day Jazz Brunch to celebrate the first day of 2019 in style!
For your new year dining considerations there is an excellent range of restaurants in town, with pretty much any taste preference catered for. Top choices include BRAVO! Cucina Italiana, Rockafeller's, Mannino's Italian Bistro and Thai Arroy. Veggie options are limited, but are catered for at Ynot Pizza & Italian Cuisine. See the full range of Virginia Beach eating establishments here.
NYE Live Streaming, Webcams
Places to watch live online - there isn't much town center coverage that we can locate unfortunately, but there are several well-positioned webcams on the seafront and boardwalk areas that can help give you a fell for what it's like at Virginia Beach at this time of year:
There is also a skyline view of the town center where you may be able to sneak a glimpse of the light show:
New Years Eve Hotels
The accommodation in Virginia Beach can be a little pricey, especially over the holiday period and even more so if you're looking for a beachfront location and views, so it make sense to make your reservation as soon as you can. You can check and book local hotels here.
Latest NYE News
The content on this page is written and maintained by Martin Kerrigan. If you have found it useful then please feel free to share it with your friends and family. If you have any comments or events to add to this page please Contact us.