Vancouver New Year's Eve 2019
Guide to the top Vancouver new year's 2018-2019 fireworks, hotels & parties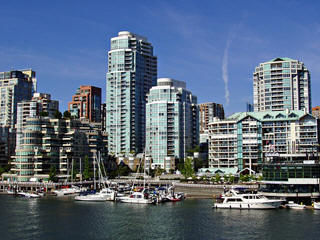 Head down to the iconic Vancouver waterfront for the biggest and brightest new year's eve party in the city, capitalising on the spectacular maritime setting, with the promenades and bright lights of Coal Harbour providing both a focal point for the evening's celebrations as well as the ideal vantage point for watching the fireworks displays all across the bay.
There are also an alternative range of parties and events thoughout the city to mark the festive season, while on new year's eve itself you have of course the spectacular fireworks display. Taking a cruise on the bay is also a very popular way to see in the new year here, giving you a fabulous view of the city's iconic skyline.
Waterfront Fireworks
The big new year's eve event in Vancouver this year once again sees a festival of food trucks and fireworks down on the waterfront at Howe and Burrard. Featuring 6 hours of live entertainment before the big fireworks show at midnight, this party draw big crowds to the city' iconic waterfront area to see in the new year in style.
The event takes place at Canada Place Way (between Howe and Thurlow and Jack Poole Plaza) and Coal Harbour in Downtown Vancouver, starting at 6pm and boasting 2 fireworks display, an early evening show at 9pm, launched from an offshore barge on Coal Harbour and timed to coincide with midnight on the east coast, then the main display at midnight.
True North Party
Running alongside the public party will be a ticketed indoor event at the Vancouver Convention Center. This event has been dubbed True North and you can get more details, including the lineup for the live music performances, best viewing areas and ticket details for VIP areas on the official NYE VAN website here.
Bars & Clubs
The bars and clubs of Vancouver throw an absolute plethora of new year parties, giving you a hue selection to choose from. Some of the biggest and most popular venues are The Shangri-La Hotel, OPUS Hotel, Fivesixty nightclub, the Jewel Ballroom, TELUS World of Science and the Waterfront Gala Ball on the Fairmont Waterfront.
If you are hitting the town then there's the bonus of free public transport home provided by bus, SeaBus and Skytrain right up until 5am on new year's day.
NYE Harbour Cruises
The maritime setting of the city means many people choose to take to the water to see in the new year, and several local cruise companies are more than happy to provide for this demand, providing a range of cruises that include food, drink, entertainment and of course fantastic views of the city skyline to watch for fireworks come midnight.
One cruise option is with Pride of Vancouver Charters, whose new year parties are somewhat legendary in these parts - you can see in 2019 aboard the top quality Pride of Vancouver or Star of Vancouver yachts with a fantastic buffet, live DJs and champagne at midnight.
New Year's Eve Hotels
There are several top hotels in Vancouver to choose from, with many offering special hotel accommodation and gala dinner packages to draw in customers over the festive period.
One such option is the Massive New Year's Eve Party at Hotel Vancouver, featuring live entertainment across 5 of the hotel's themed ballrooms with music from German cabaret through Vancouver Opera to rock and country - get more details and tickets here.
For all of these venues, plus most of the top locations in Vancouver, you can search online, check availability and book local hotels here.
Restaurants
If you're looking for new year dining options then there will be a new year Masquerade Bal and party at Sai Woo in the city's Chinatown district, offering fine food, cocktails, live DJs and of cours ethe masquerade theme - get tickets online here.
NYE Live Streaming, Webcams
You can get a pretty good view of the midnight fireworks on some of the local webcam views, with some live streaming cameras ideally positioned around the harbour:
The new years eve celebrations are also typically shown live on TV, with local channel Global BC the best starting point to look for live coverage.
Latest NYE News
The content on this page is written and maintained by Martin Kerrigan. If you have found it useful then please feel free to share it with your friends and family. If you have any comments or events to add to this page please Contact us.