Turin New Years Eve 2019
Fireworks, Events, Parties, Hotels, Restaurants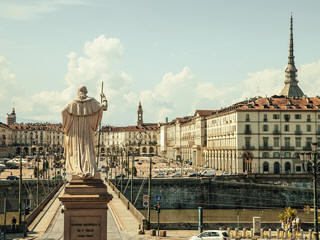 Spending New Years Eve in Italy is a wonderful treat and if you perhaps find yourself in Turin (known locally as Torino) for La Festa di San Silvestro then get yourselves out and about and explore this beautiful northern Italy city that boasts some epic architectural delights and is home to Juventus Football Club. Bursting with museums, cathedrals, theatres, art galleries and an array of historical sites, your trip to Turin will most definitely be an adventure.

Marvel at the stunning views of the Alps whilst you take a walk through the many piazzas or perhaps stroll through the parks including Parco del Valentino and I Giardini Reali. If you'd like to see real historical architecture then go take a peek at the University of Turin, dating from the 6th Century, it's marvellous or wander the halls of Palazo Madama.

December in Turin has the city illuminated with festive lights and decorations, the porticoes are decorated, there is the Piazza Borgo Dora Christmas market and as the song goes, "it's the most wonderful time of the year".
Things to do
New Years Eve in Turin makes for a memorable evening, so take yourself off to Piazza San Carlo for some entertainment and to await the fireworks display. The main squares of Turin will be teeming with people enjoying entertainment, music, dancing so get out there and join in the festivities.

Like many of the larger cities, the bars and restaurants will have special New Year Eve events planned, so check with the venue closer to the time and get your ticket/table booked. The clubs are also open for those looking to party into the early hours.

You have a great selection of restaurants in Turin, many of which will be packed for NYE, so make your reservation well in advance:

Crostone
La Taverna dei Mercanti
Stefano Fanti al Ristorante Circolo dei Lettori
Trattoria La Madia
Ristorante Mangiato
NYE Live Streaming, Webcams
Live webcam from Piazza Giambattista Bodoni
Live webcam over the River Po
New Years Eve Hotels
If you plan on staying in Turin for New Year then make your reservations as soon as you can to make sure you get a hotel you love :

Turin Palace Hotel
Grand Hotel Sitea
NH Collection Torino Piazza Carlina
Hotel Victoria
Hotel Principi di Piemonte
You can search for deals at all of these venues, plus other local hotels here.
Latest NYE News
The content on this page is written and maintained by Yvonne Kerrigan. If you have any comments or events to add to this page please Contact us.