Trinidad Carnival 2018 Live Stream
Watch the Trinidad carnival parade live streaming online coverage, free webcast feed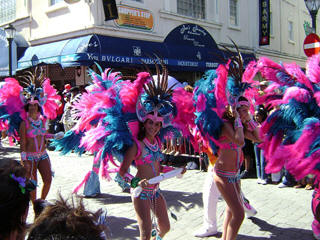 The Trinidad Carnival is by far the biggest annual event taking place in the Caribbean islands of Trinidad and Tobago, very much putting the new year's eve celebrations in the shade, which is why we've decided to use this page to bring you all the latest from T&T during the carnival season.
There is live streaming coverage of the main carnival parades, which only adds to the appeal, watching the Trinidad carnival online is one of the highlights of our year as we wait for new year to come back around.
We will of course bring you all the very latest on the new year's eve 2019 celebrations from Port of Spain and around Trinidad and Tobago once the carnival is done and dusted.
Trinidad Carnival Schedule
There are a number of popular events that make up the Trinidad Carnival in it's entirety, including the big parties for J'Ouvert, Monday Night Mas and Dimanche Gras, but by far the biggest and most watched events are the Parades of the Bands on Carnival Monday and Carnival Tuesday in Port of Spain, the island's capital.
The dates of the Parades of the Bands for 2018 are Monday 12th February and Tuesday 13th February.
Live Stream
The live streaming coverage of the Trinidad Carnival has improved markedly in recent years, with local TV broadcasters providing coverage as well as more informal streams via social media that brings amuch wider range of live parade coverage to an online audience.
Get the latest 2018 Trinidad Carnival streaming here:
Trinidad Carnival 2018 live stream
Hotels & Accommodation
If you're in Port of Spain and the surrounding areas for the Trinidad carnival parades and events then you'll need to secure a place to rest your head in plenty of time as the whole island will be absolutely packed to the rafters.
To check availability and make reservations at all the hotels and guest houses in the area, you can make online bookings here.
LLatest NYE News