Toronto New Years Eve 2018
Fireworks, Events, Parties, Hotels, Restaurants, Concerts
Toronto, Ontario, 31 December 2017, Midnight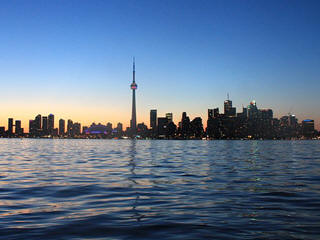 The focus of the New Years Eve celebrations is the central Nathan Phillips Square, a large plaza centrally located in front of Toronto's City, and usually the focal point for any big events in the city.
Toronto is renowned as a laid back, cosmopolitan city and is certainly a place I would love to visit, and being a big fan of wintry landscapes then the new year holiday period would seem like as good a time as any.
There is usually a big main event in the city's central Nathan Phillips Square, which seems to keep rolling on each year despite continuous rumours about its demise!
On new years eve, crowds start to gather from early in the evening to join a popular party that extends will into the early hours of New Years Day, and is probably the iconic Canadian event, although this year Ottawa will again be hoping to contend that title, as the battle for Canadian new years eve supremacy really starts to heat up!
New Year Fireworks, Events, Parties
Nathan Phillips Square is the focal point of the new year celebrations in Toronto (and most of the festive celebrations to be fair - Toronto's Christmas tree is also here, the lighting of which takes place this year on the 30th November, preceded by the spectacular Cavalcade of Lights).
This event starts from 8pm and features live music, skating and dancing with live entertainment in the leadup to the spectacular fireworks at midnight. There will also be a large fleet of food trucks to help keep the crowds fed and watered.
The party generally has a decent strength lineup - this year the live performers will be DJs Starting From Scratch and Mel Boogie, Zero Gravity Circus, Jasmine Denham, and Ivan Wanis Ruiz.
Elsewhere, the many bars and nightclubs of the city try their best to keep you indoors for the duration with an excellent selection of parties and special events
If you're looking for a hotel with a private party to bring in your new year then the Sheraton Centre Toronto Hotel are hosting a new year's eve party at a venue that also benefits from some spectacular downtown views. The Hilton Toronto on Richmond St West is another option for a semi-formal event.
Another popular option For New Years 2017-2018 is to take a cruise on Toronto Harbour, where you're guaranteed one of the best possible vantage points for the fireworks displays. The Jubilee Queen has a special new year gala event that includes luxury buffet dinner, drinks, champagne and live entertainment with their own onboard DJ. They also offer package deals with some of the local hotels that might help keep your overall costs down.
For live music fans, Dwayne Gretzky are hoping to secure their reputation as the new year's eve top party band with a new, bigger live show at the Enercare Center. The event is called Infinity Ball and promises, along with the live music, food and drink, art installations and surprise guests. Tickets and full details available here.
If you're looking for a more sporty diversion then the Toronto Midnite New Year's Eve run takes place each year in the King Liberty Village neighbourhood, offering some pretty good views of the Toronto skyline - this is a 5k run followed by food, drinks and fireworks - get more details and sign up to partipate here.
There is an NYE Ice Skating Jam at the Harbourfront Centre on Queens Quay West, part of a season of events and parties that take place at the outdoor ice rink over the festive season. the new year event runs from 8pm to 1am on new year's day and includes live music with DJ P-Plus.
For fans of comedy the annual Massey Hall New Year's Eve Comedy Extravaganza is well worth looking out for, featuring a selection of stand-up comedians and sketch artists - ticket details to follow.
If you're looking for dining options in Toronto for the new year, then there are plenty of options to choose from, with local and international cuisines all more than adequately catered for. Most popular venues include Donatello, Kiwe Kitchen, Byzantium, Bocca on Baldwin and the fantastically named Queen & Beaver Public House! if you're interested specifically in fireworks views then 360 The Restaurant at the CN Tower has to be a top choice! See all the top Toronto restaurants here.
NYE Live Streaming, Webcams
In previous years the the big New Year's Eve Bash has been broadcast live online by CityTV (starting at 10pm local time) from Nathan Phillips Square - we'll bring you the link here as soon as we have it.
New Years Eve Hotels
If you're planning on visiting Vancouver over the New Year period, then early reservation is strongly recommend. You can search, check availability and book local hotels here.
Popular Pages
The content on this page is written and maintained by Martin Kerrigan. If you have found it useful then please feel free to share it with your friends and family. If you have any comments or events to add to this page please Contact us.