Toronto New Year's Eve 2019
Guide to new year's eve in Toronto. Top fireworks, parties and hotels for NYE 2018-2019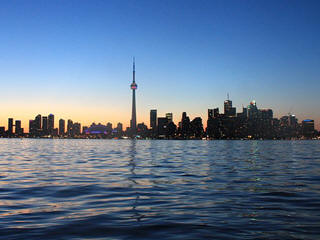 The focus of the new year's eve celebrations in Toronto is the city's iconic Nathan Phillips Square, where crowds gather to see in the new year with live entertainment ans a spectacular fireworks display at midnight.
Elsewhere in the city, there is a great range of NYE events to choose from, with top hotel parties and harbour cruises among the most popular options.
Nathan Phillips Square NYE Party
Head down to Nathan Phillips Square for the biggest new year's eve party in Toronto. This is a free, family friendly event that gets underway from 8pm in the evening and draws a huge crowd to watch the live musical performances and of course the dramatic fireworks show come midnight.
There are always top name performers at the event, we'll have the lineup for new year 2019 as soon as the details are announced.
As well as the music there is also a large ice rink in the square for those who like to skate their way into the new year, while the area also hosts numerous food and drinks trucks to keep the crowds adequately fed and watered as they wait for midnight to arrive.
Jubilee Queen NYE Harbour Cruise
Many people choose to take to the water for their new year's eve party, and with it's harbour setting Toronto offers a great selection of new year cruises.
One of our favourites is on board the Jubilee Queen, where there is a special new year gala event that includes luxury buffet dinner, drinks, champagne and live entertainment with and onboard DJ. They also offer package deals with some of the local hotels that might help keep your overall costs down. You get get more details and tickets here.
Midnite New Year's Eve Run
For those who like tio see in the new year with a more sporty diversion then the annual Toronto Midnite run, now sponsored by MyNextRace.com is a great option if you don't mind braving the cold! This 5k race takes place in Liberty Village on the stroke of midnight and brings a real party atmosphere to the streets
Get more details and sign up to partipate here.
360 Restaurant at the CN Tower
For a fabulous new year's eve dinner with unbeatable views of the fireworks then few places can match the 360 Restaurant at the CN Tower, Toronto's iconic city landmark.
They have special dining options throughout the holiday period, and obviously if you would like to go for the new year option you'll need to reserve well in advance. Get more details and reserve your table online here.
Massey Hall Comedy Extravaganza
FoFor fans of comedy the annual Massey Hall New Year's Eve Comedy Extravaganza has been taking place for well over a decade now and is well worth looking out for, featuring a top selection of stand-up comedians and sketch artists - ticket details for this year's event to follow.
New Year's Eve Hotels
Toronto has a wide selection of top hotels, with many also hosting private parties. Top venues to check out includes the Sheraton and The Hilton Toronto on Richmond St West is another very good option for a semi-formal new year event.
You can search, check availability and book all the top Toronto hotels here.
NYE Live Stream
There is likely to be TV coverage of the fireworks from Nathan Phillips Square, hopefully with a live streaming online viewing option. We'll post the link here as and when it becomes available.
Latest NYE News
The content on this page is written and maintained by Martin Kerrigan. If you have found it useful then please feel free to share it with your friends and family. If you have any comments or events to add to this page please Contact us.