Tampa Bay New Years Eve 2019
Fireworks, Events, Parties, Hotels, Restaurants, Concerts
Tampa, Florida, 31 December 2018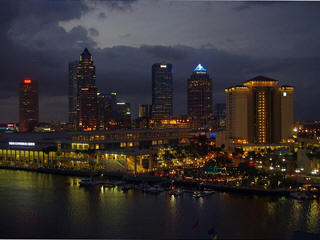 New Year's Eve in Tampa Bay offers a host of opportunities from beach parties to cruises, and a choice from a huge range of bars, nightclubs and restaurants.
I guess I should start by pointing out that I am aware that Tampa Bay isn't actually the name of a town, as most of the listings on this site are, but rather the bay area around which a number of conurbations are clustered, including the pretty large city of Tampa itself as well as nearby Clearwater and St Petersburg among others.
I've chosen to group these together on a single page largely for convenience, my thinking being of you're in the area then all of the parties and events are within relatively easy reach - if you can make it to Tampa then you can almost certainly make it to Clearwater Beach for instance, so this way I get to give the widest range of choices in the most easily accessible format. As always, if there are new years eve events going on in the area we don't have listed here then please feel free to let us know using the feedback form at the bottom of the page.
Things to do
One big thing the Tampa Bay area has going for it come new year's eve is a wide range of fireworks to choose from, and NYE 2018-2019 will be no exception. perhaps the most well known is the First Night St Pete event in downtown St Petersburg.
This is a family friendly event where there is a wide range of entertainment throughout the evening, including live music, drama, dance and art. There are 2 fireworks displays, one aimed at those with younger kids at 8pm then the main event a midnight. As with most First Night events you do need to purchase a button to attend this one, priced at a very reasonable $10 - get yours here.
A little further north we find the town of Clearwater, where another big fireworks based event takes place, the Light It Up New Year's Eve at Clearwater Beach. This is a free event funded by local business sponsors and the Beach Chamber of Commerce and offers a fantastic spectacle of a dramatic midnight fireworks show over the bay and the ocean - more details and sponsorship opportunities on their official site here.
If you would like to see some fireworks in Tampa itself then several of the local bars host their own display, most typically those with a waterfront setting. One popular annual event is at Hogan's Beach bar where the lively party doesn't so much culminate with the midnight pyrotechnics but rather pause for them at a party that lasts until 3am.
A family friendly option in Tampa is at the Channelside Bay Plaza where you have a host of dining and entertainment options ahead of the Channelside Lights Up the Bay event, with live music provided by DJs in the courtyard prior to a spectacular fireworks show at midnight.
Another popular option for those spending the new year period in the Tampa Bay area is to take to the water with a scenic cruise, where you have the benefit of a front row, uninterrupted view of all of the fireworks displays, hitting the skyline in every direction. There are plenty to choose from - one very popular event is the Yacht StarShip Fireworks Celebration Cruise which includes gourmet dining, dancing on deck and a champagne toast at midnight.
For a full up to date list of all the top parties in the bars, clubs and restaurants of the Tampa area, check out the Tampa Bay Times listings here.
NYE Live Streaming, Webcams
Places to watch live online - if you can't make it in person then one of the best options for watching the fireworks over Tampa Bay is to check out some of the local live webcam views - there are cameras ideally positioned at key locations all around the bay:
New Years Eve Hotels
The range of accommodation around Tampa Bay is as vast and varied as you would expect from such a popular holiday destination, with a particular premium on bayside and beachfront properties.
To view a full range of hotels, bed and breakfasts, guest houses to suit most budgets and catering for pretty much any taste and preference, visit and book local hotels here.
Latest NYE News
The content on this page is written and maintained by Martin Kerrigan. If you have found it useful then please feel free to share it with your friends and family. If you have any comments or events to add to this page please Contact us.