Tahiti New Years Eve 2019
Fireworks, Events, Parties, Hotels, Restaurants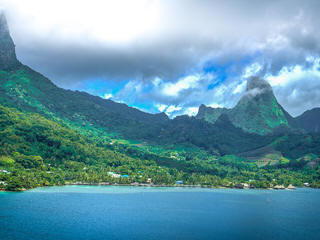 Tahiti is another Pacific Island location very popular as a new year's eve destination with visitors from abroad, Australia and New Zealand in particular, looking for somewhere quiet and secluded to see in the new year.
As the largest island of the island nation of French Polynesia, Tahiti had many great things to offer visitors, including it's famous black-sand beaches, many lagoons, waterfalls and even 2 extinct volcanoes, the original source of the black sand making up those fantastic beaches. Another very popular destination in the French Polynesian islands is of course nearby Bora Bora.

The most popular resort in Tahiti is Papeete, where top attractions to help fill out your trip include the Aremiti Ferry, Paofai Gardens, Notre Dame Cathedral and the ever popular and lively Municipal market.

As with all South Pacific island venues we have to caution that the Christmas and new year festive season falls right in the middle of the tropical cyclone. Or hurricane season, so although significant disruption is unlikely, please make sure you have adequate insurance cover before you commit to travelling here.
Things to do
In Papeete the new year celebrations for the locals are centred on the popular Waterfront Esplanade, which stretches from the To'Ata Square to Vai'ete Square and is the site of many lively bars and restaurants.

One popular local tradition to indulge as part of your new year visit to Tahiti is to take part in Le Tere Fa'ati, a festive tour that takes place on an open air bus. The buses are decorated specially for the occasion and tour some of the popular local attractions, while along the way local musicians perform lively drum and ukulele music to keep you entertained.

For visitors to Tahiti your best option for a new year party is likely to be in your hotel, as most of the more popular resorts host their own private parties and events. Top venues to consider include:

- Le Meridien Tahiti in Punaauia – special new year's eve dinner with pre-booking essential

- InterContinental Tahiti Resort & Spa in Fa'aa – set on a fantastic lagoon with volcano views. The overwater restaurant, Le Lotus, offers a special new year menu in a fabulous setting

- Tahiti Pearl Beach Resort – Panoramic views and spa facilities are among the top attractions at this very popular resort

Special mention also for the Four Seasons Resort Bora Bora, which hosts a new year festival for all guests.
NYE Live Streaming, Webcams
Places to watch live online: there are a few live webcams offering views over both Tahiti and Bora Bora:
New Years Eve Hotels
We've mentioned a few of the top hotels above, but there is a wide range of alternatives to choose from too, with everything from 5 star resorts to basic beach bungalows.
To check availability and make reservations at both our recommendations and all the hotels in the area, you can make online bookings here.
Latest NYE News