Surfers Paradise New Years Eve 2019
Fireworks, Events, Parties, Hotels, Restaurants, Concerts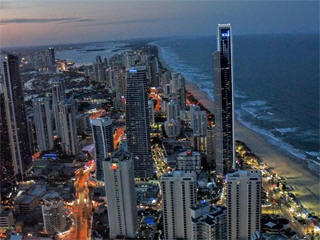 Surfers Paradise is a great choice for new year's eve, with the beachfront town's plethora of clubs, bars and restaurants offering a wide range of parties to take you right into new year's day, while there is of course the fireworks onm the beach to look forward to, 2 separate displays that take full advantage of the dramatic high rise buildings that make up the Surfer's Paradise skyline.
We were actually lucky enough to return to Surfers Paradise in 2018 and the place has grown even more impressive since my previous visit 20 years earlier. We were particular fans of the amazing views from the Q1 tower, so that would have to be my first choice for a new year party. The image on this page is actually one of our own, taken from the Skypoint Observation Deck of the Q1.
The capital of Queensland may officially be Brisbane, but when it comes to any event that involves a party, many Queenslanders, especially the younger crowd, will head down to this part of the Gold Coast for the parties that last right through the night.
Things to do
There are 2 main fireworks displays over the beach at Surfers Paradise, and earlier family friendly event at 8pm then the main show at midnight, Crowds will gather all along The Esplanade, especially in the area around Cavill Avenue, where there is a big concentration of bars and restaurants.
For an excellent new year party with probably the best views anywhere on the Gold Coast we highly recommend the Q1, where the Skypoint Observation Deck, way up on the 77th floor, holds a new year's eve party to die for. The express elevator takes you up there in a matter of seconds and the 360 degree panoramic views will mean you can see fireworks not only from Surfers beach, but any displays for miles around.
The Q1 new year's eve party is always very popular so be sure to secure your tickets well in advance. They will be available on the venue's official website here.
Away from the main event, for those of a livelier disposition there is a plethora of bars and clubs to choose from - one option is to see as many as you can with a Nightclub Tour which starts at Surfers Paradise Beer Garden on the famous Cavill Avenue at 5.00pm and later moves on to venues including Billy's Beach House, Cocktails & Dreams, Vanity Nightclub and Sincity The Nightclub.
There is also the option to see in new year's eve on the water, there are a number of companies offering cruises on and around the many wayerways of Surfer's Paradise, and if you choose an option that takes you out onto the Pacific Ocean you have the added bonus of being guaranteed a front row view of the fireworks.
For your new year dining options there is an embarrasment of riches in Surfers, with everything from fine dining to take aways. For vegans we can heartily recommend Govindas, with a truly spectacular all you eat buffet at a very reasonable price, while there is also a very good food court in the Chevron Renaissance.
NYE Live Streaming, Webcams
There are some excellent live streaming views to be found on the area's many webcams should you wish to watch the fireworks show live online:
Surfers Paradise and Gold Cost webcams
New Years Eve Hotels
There is plenty to choose from in Surfers Paradise, but it isn't always the cheapest so you might want to consider staying a little further away in one of the less crowded Gold Coast towns. Public transport is readily available via an excellent bus and tram network, is cheap and reliable so being further out needn't be a big issue. Some of the areas around Kirra, Coolangatta, Miami Beach and Burleigh are especially worth checking out.
I can also heartily recommend checking out some of the offers on Airbnb, where there are a huge range of apartments, many with spectacular views of the coast, and the Q1 apartments especially well represented. We stayed on Chevron Island, which had the advantage of being within walking distance of the beach and all the main attractions while being far enough away that you won't be disturbed by the noise from all the nightlife.
Check out local hotels here.
Latest NYE News
The content on this page is written and maintained by Martin Kerrigan. If you have found it useful then please feel free to share it with your friends and family. If you have any comments or events to add to this page please Contact us.