St Louis New Years Eve 2018
Fireworks, Events, Parties, Hotels, Concerts
St Louis, Missouri, 31 December 2017, Midnight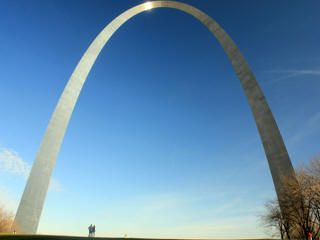 St Louis has for many years been a very popular new year's eve destination with no shortage of things to do thanks to the large scale First Night party, a family friendly party with fireworks that would draw large crowds down to the downtown area to welcome the new year with the crowds.
Sadly the St Louis first night event is another that has fallen victim to the increasing trend of being shut down due to budget cuts and was cancelled last new year's eve. There was initially the promise that it would return this year but as the date draws closer there's no sign of this being the case so I think we have to assume that First Night St Louis is no more. Should it make a return in the future we will of course be sure to let you know, but in the maintime check out the range of options below, there's still plenty to do.
New Year Fireworks, Events, Parties
With the demise of the First Night event you'll need to look elsewhere for your new year's eve celebrations in St Louis, but do no despair as there are still more than enough fabulous parties and events to choose from.
One very popular big new year party takes place at the Ballpark Village, where their new year's eve party, NYE Live, has been announced, taking place at locations across the venue - get more details and tickets here.
There is also a 2018 New Year's Eve Ball at the Grand Ballroom at the St Louis Airport Marriott, a popular event that is now in its 8th year and is repeatedly voted as one of the best new year's eve events in St Louis - the party includes an expanded dance floor, plated dinner service, entertainment, additional bars and several ticket packages to choose from - this will sell out so reserve your place via their brand new website here.
There is also the annual New Years Eve party at Howl at the Moon St. Louis which offers a variety of packages including a Champagne Supernova VIP option - tickets are available online here.
For those with more cultural leanings, the STL Symphony hold their annual New Years Eve Celebration live at Powell Hall, sponsored by BMO Private Bank. Starting at 7.30pm and led by conductor David Robertson the evening promises a night of enchanting music in a spectacular setting, the perfect way to greet the new year.
The bars and nightclubs of St Louis throw some fantastic new year parties, and this year will be no exception. Top venues to look out for include The Pepper Lounge, the 18th Floor Ballroom at the Hyatt Regency, Lumen and Mandarin. Secure your tickets for all the top STL new years eve parties right here.
If you're looking for somewhere to eat out, either as a precursor to heading downtown to one of the clubs or just to spend a relaxing and quiet evening with friends and family then there's no shortage of options on St Louis. Top recommendations are Bogart's Smokehouse, Kemoll's, Roberto's Trattoria and the Broadway Oyster Bar. There aren't many vegan options but Cafe Natasha's Kabob International will look after you. Check out the full range of STL restaurants here.
If you are in STL for the festive season then you can make the most of your time by checking out some of the top attractions which include the fantastic stainless steel Gateway Arch you can see in the image at the top of this page, the fantastic scenery of the Forest Park, the Missouri Botanical Garden and the Saint Louis Science Center.
NYE Live Streaming, Webcams
Places to watch live online: there are some great webcams in St Louis, capturing the main sights such as the Gateway Arch as well as some skyline views that should help provide panoramic viewing of the fireworks come midnight:
New Years Eve Hotels
St Louis has a decent range of affordable accommodation within easy distance of most of the main parties and central areas so you shouldn't have too many problems finding somewhere to stay. Many hotels also host their own new year parties, a particular one to look out for is New Year's Eve at Four Seasons Hotel St. Louis.
For availability and online reservations at all the best local hotels and guest houses you can book local hotels here.
Popular Pages
The content on this page is written and maintained by Martin Kerrigan. If you have found it useful then please feel free to share it with your friends and family. If you have any comments or events to add to this page please Contact us.