St Barts New Years Eve 2019
Fireworks, Events, Parties, Hotels, Restaurants, Concerts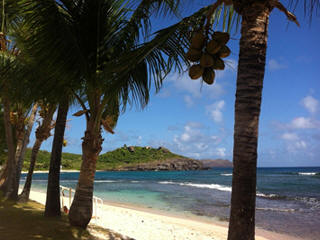 New year's eve in St Barts offers a great range of things to do, with a particularly popular emphasis on the high end of the scale.
St Barts, or St Barthelemy to give its full title, is pretty much millionaire's playground, it's a small Caribbean island that is frequented by the very rich and famous including Leonardo DiCaprio, Gwen Stefani, Beyonce and Kim Kardashian. They favour St Barts because of its privacy and perhaps for many a level of anonymity.

But for those of us not in the celeb set, but with money to spend, you can lose yourself in the designer boutiques at Gustavia, shopping for that perfect outfit for New Years Eve, visit the spa for the perfect massage, or just sit back on your sun lounger and work on your tan on one of the idyllic beaches (sometimes used for Victoria Secret photoshoots!). Jump on your jet ski and explore this beautiful island or just stroll along miles of pure white sand as you take the time to relax and unwind.
Things to do
New Year's Eve parties aren't just onland at St Barts as it plays host to a plethora of super yachts where celebs gather for private parties and guzzle Dom Pérignon Rose Gold! If you're acquainted with any of the yacht owners, you might head down to the dock and get on one of the huge yacht parties.

If you're on land then you might be drawn to St Jean Beach, one of the more popular party locations for New Year. Across the island there are many clubs promising a memorable New Years Eve, or opt for a beach party, try out Gustavia beach and you'll get some epic views of the fireworks too from Gustavia harbour.

The restaurants and bars across St Barts will also hold their own New Years Eve events, most of which will be need to be booked in advance.

It may be a small island but it still has over 100 restaurants to choose from, here is just a sample:

Bonito St Barth
Nikki Beach St Barth
L'Isola
Sand Bar
Kiki-e Mo
NYE Live Streaming, Webcams
There doesn't appear to be any working webcams at the moment, if that changes, I'll pop it on!
New Years Eve Hotels
Most people will opt to hire a private villa, but if you just want to be taken care of, then opt for one of these hotels:

Eden Rock - St Barths
Cheval Blanc St-Barth Isle de France
Le Guanahani
Hotel Le Toiny
Tom Beach Hotel
You can search for deals at all of these venues, plus other local hotels here.
Latest NYE News
The content on this page is written and maintained by Yvonne Kerrigan. If you have any comments or events to add to this page please Contact us.