Saratoga New Years Eve 2019
Fireworks, First Night Events, Parties, Hotels, Restaurants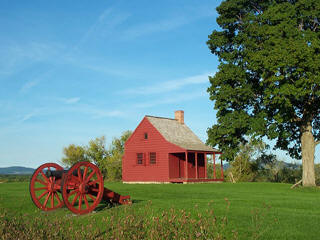 Saratoga in New York State is another town to hold a big First Night party on new year's eve, and in fact prides itself on being the second largest new year's eve gathering in the state of New York outside of the huge party in Times Square, where of course the iconic ball drop takes place.

Saratoga, often confused with and used interchangeably (and technically incorrectly!) with the larger neighbouring town of Saratoga Springs, is popular with visitors all year round, looking for a more laid back escape from the larger metropolitan centres, and offers some lovely countryside and scenery. It is also well known for it's horse racing, with the Saratoga Race course one of the most popular tracks in the country.

As one of the earliest settled areas in the United States there is also a lot of sites of historical interest in and around Saratoga, with the Saratoga National Historical Park in particular well worth a visit if you are spending some time here over the festive and new year season.
Things to do
The big party in Saratoga for new year's eve is once again First Night Saratoga, a popular event with locals and visitors alike, offering a wide range of entertainment and activities and attracting crowds estimated at around 15,000, an impressive gathering indeed for a relatively small town.

This is very much a family friendly event and the entertainment features live music from many different performers, as well as dancing, comedy, theater, film, magic, mentalism and hypnotism - basically something for everyone! You will need to purchase a button to attend the events, although these are very reasonably priced for such a wide range of activities - you can purchase yours online here.

There is also an annual First Night 5km run preceding the start of the main events at 6pm in the evening, while the climax of the festivities will be the spectacular new year fireworks on the stroke of midnight in Congress Park. You can see the full range of activities at First Night Saratoga, including the full lineup of performers, on the event's official website here.

Away from the First Night party there will be plenty of smaller scale parties taking place in the bars and restaurants of Saratoga. Particular places to check out for new year's eve parties include Vapor Night Club at the Saratoga Casino Hotel, 9 Maple Avenue, Peabody's and the Henry Street Taproom.

There are plenty of dining options in town too, whether for a quieter evening with family and friends or as a precursor to heading down to the First Night events and fireworks. Top recommended restaurants include The Plumed Horse, The Basin and La Fondue.
NYE Live Streaming, Webcams
We haven't been able to find any live webcams in the areas where the new year's celebrations take place, but will keep looking, please let us know if you're aware of any, especially if they have a view of the fireworks.
New Years Eve Hotels
There are plenty of hotels to choose from in the area, with popular choices including The Saratoga Hilton, Holiday Inn Saratoga Springs, the historic Saratoga Arms and the Courtyard by Marriott Saratoga Springs.
To check availability and make reservations at these and all the top hotels in the area, you can make online bookings here.
Latest NYE News