Sao Paulo New Year's Eve 2019
Fireworks, Events, Parties, Hotels, Restaurants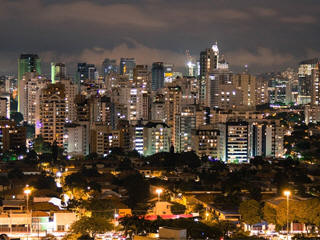 Should you happen to find yourself in Sao Paulo for New Years Eve, then lucky you, they have spectacular fireworks and a huge new year street party!
For culture vultures make a beeline for Centro Cultural Banco do Brasil Sao Paulo which has fantastic exhibitions, galleries and theatre and apparently it also does great coffee too!

There are many great architectural delights and the Theatro Municipal De Sao Paulo is one of them, the interior is really something to behold and is well worth a visit!

Take a walk along Avenida Paulista, with its eclectic mix of high rise buildings, boutique shopping and grab a drink and enjoy this bustling district. Every Sunday the traffic is closed off for pedestrians to enjoy walking around and enjoying street performers and vendors.

Looking for some street market action, then every Saturday there is the Benedito Calixto arts market, this market has been going for 20 years and attracts a variety of stall holders selling arts, crafts, food and antiques. The market is a great place to wile away the day as it is surrounded by cafes and restaurants, so once you've finished shopping you can relax and grab a bite to eat and enjoy the music and entertainment.

Sao Paulo is also home to a large community of Japanese people (the largest population outside Japan) seek out Liberdade (Japantown), with many Japanese restaurants, stores, Japanese gardens, street decorations and lanterns, traditional food stalls and much more.

Other shopping attractions can be found at the multitude of shopping malls in Sao Paulo, from Patio Higienopolis's Shopping to Iguatemi Sao Paulo.
For something a little more slow paced, take a wander around the beautiful Ibirapuera park where you can have a go at capoeira or take a yoga class, visit museums like MAM (Museum of Modern Art), galleries, or just take a seat and watch the world go by!
Things to do
Sao Paulo is seen as being a bit quieter than its counterpart Rio, but this is still a great place to be for your NYE celebration.

Follow the crowds and head to Avenida Paulista! The city's famous street, which is 1.7 miles long, blocks off the traffic on New Years Eve to become one huge outdoor stage where around 2 million people gather for an amazing evening of live music and an epic fireworks display at midnight.

Sao Paulo has some stunning venues offering great New Years Eve parties, check out places like La Luna on R. Pirajucara, 212 - Butanta who will be hosting a new years eve celebration with a gastronomic dinner and open bar and they will party through to 6am! Or you can head to the Skye bar at Unique Hotel for some amazing views over Sao Paulo (this gets booked up incredibly quickly).

Head to the beach for an amazing New Year at Toque Toque Beach, with finger food, open bar and entertainment, or seek out tickets for Banana's Beach Club where you can party all night long with amazing DJs in a stunning setting, perfect to see in the New Year!

Sirena Maresias is another great venue, just 200m from the sea, where you can usher in 2019, with an open bar, finger food and a live stage with top DJs performing.

If you want a place to venture to see the fireworks, then make your way to Ibirapuera Park for entertainment and grab a spot on the lawn for the pyrotechnics!

If you are out and about in the city on 31st December, you will also see the 93rd Sao Silvestre, the annual 15km street race that winds through the city, starting at Av.Paulista, corner with Rua Ministro Rocha and finishing in front of the Casper Libero Foundation.

There will be plenty of bars, clubs and restaurants hosting their own Reveillon celebrations along with special menus and fireworks. Many of these will be ticketed events and reservations only, so make sure to book in advance.

Coco Bambu Analia Franco
Nosu Japanese Cuisine
Amadeus
Due Cuochi Cucina - Itaim
Cantaloup
NYE Live Streaming, Webcams
There doesn't appear to be any useful webcams at the moment, but we'll keep looking!
New Years Eve Hotels
Staying in Sao Paulo this New Years Eve? Then remember to make your reservations in advance, the city is still very busy and you don't want to miss out!

Sheraton Sao Paulo WTC Hotel
Melia Paulista
Pullman Sao Paulo Ibirapuera
The Capital Sao Paulo Itaim
Emiliano Hotel
To check availability and make reservations at these and all the top hotels in the area, you can make online bookings here.
Latest NYE News
The content on this page is written and maintained by Yvonne Kerrigan. If you have found it useful then please feel free to share it with your friends and family. If you have any comments or events to add to this page please Contact us.