Santiago New Year's Eve 2019
Fireworks, Events, Parties, Hotels, Restaurants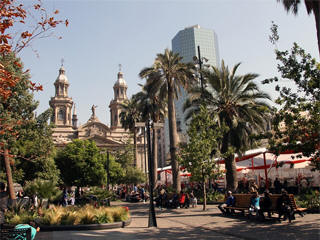 Should you happen to be in Santiago de Chile for New Year, then expect to Party! This city offers visitors a plethora of festivities, from street parties, to epic club nights, or for those looking for a little quiet, just venturing to a quiet spot (if you can find one!) to sit back and watch the fireworks light up the sky.

There is much to see in Santiago and as you are so close to both sea and mountains, you're not going to run out of things to do. There are museums (head to Parque Quinta Normal for several museums), beautiful parks like Parque Bicentenario and Parque Araucano, cathedrals (I would be making a beeline for Catedral Metropolitana de Santiago, absolutely stunning inside), a palace and plenty of craft markets. Plan a morning out and ride the cable cars up to the top of Cerro San Cristobal for more epic views

It's a real photographers dream too, with the city skyline set to the backdrop of the Andes, venture to one of the many hills, perhaps Cerro Santa which you can climb for some fantastic panoramic views and explore many of the architectural delights on the way up.

You can not be in Santiago and not try a little Salsa dancing, there are quite a few salsa shows and many clubs where you can dust off your dancing shoes!

If you find yourself in need of a day of shopping, then there are quite a few shopping malls which you can reach via the metro, try out Costanera Centera at Avenida Andres Bello.
Things to do
New Years Eve in Santiago is a carnival of celebrations with people crowding the streets with their funny hats, masks, silly string and snow cans. You'll get swept along with the excitement as the countdown to New Year gets closer.

There is a great street party around the Palacio La Moneda area and of course this is a fantastic place to be for the Entel Tower Fireworks display at midnight!

Many people also head to San Cristobal Hill (Cerro San Cristobal) with their bottles of bubbly, family and friends to watch the epic fireworks from this great viewing spot before heading back into town to a club.

If you are close to Las Condes, there are fireworks set off on Cerro Calan, this is mainly families gathering to watch the fireworks.

If you are wondering why there are stall selling yellow underwear, this a good luck tradition in Chile! So get your yellow pants on, grab your crazy hat and party poppers and enjoy this wonderful night!

There are some fantastic clubs and restaurants which have special events for New Year and most are tickets/reservations only, so make sure to book in advance if you want to go somewhere in particular.

Latin Grill
Peumayen Ancestral Food
The Singular Restaurant
Le Bistrot de Gaetan
Barrica 94
NYE Live Streaming, Webcams
There doesn't appear to be any working streams that we can find, but we shall keep looking.
New Years Eve Hotels
Santiago will be packed, so get your hotel booked as soon as you can and get out there and enjoy the evening.

Ibis Santiago Providencia
San Cristobal Tower, A Luxury Collection Hotel, Santiago
W Santiago
Renaissance Santiago Hotel
Atton Vitacura
To check availability and make reservations at these and all the top hotels in the area, you can make online bookings here.
Latest NYE News
The content on this page is written and maintained by Yvonne Kerrigan. If you have found it useful then please feel free to share it with your friends and family. If you have any comments or events to add to this page please Contact us.