San Diego New Years Eve 2018
Fireworks, Events, Parties, Hotels, Restaurants, Concerts
San Diego, California, 31 December 2017, Midnight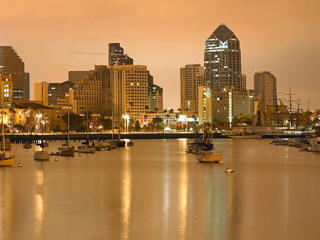 San Diego on new year's eve sadly no longer has a large public fireworks display but there is still more than enough to keep you entertained, with a huge range of special parties and events in the coty and surrounding areas.
The generally fine weather in this part of California is a bonus at this time of year, and local attractions such as Balboa Park, Seaport Village and the USS Midway Museum give plenty of options to fill your time. If you are intent on seeing fireworks over San Diego bay then the 4th of July is the time to visit, when the Big Bay Boom takes place.
If you are intent on seeing a big fireworks show at midnight then it may be worth considering a trip up to the LA area where there are several big displays: LA new year's eve
New Year Fireworks, Events, Parties
San Diego is a bit of a nightmare when it comes to finding out about the fireworks at new year - in previous years we've had displays that were announced then didn't go ahead and even one that wasn't officially announced anywhere then took place anyway!

As things stand there's no official display this year but that could always change, and we will provide any updates we can find. There are usually private parties at local hotels with fireworks displays but even that has been complicated in recent years by new local fireworks regulations that make it even harder for venues to get a permit.
The only place I've found definitely advertising fireworks on new year's eve so far this year is the Viejas Casino, located arounmd half an hour drive east across the desert, so if you don't mind a bit of a journey their new year party looks pretty special - get more details and tickets here.
For music festival fans there is a huge event in San Diego this new year, with the OMFG! NYE 2018 party at the Valley View Casino Center. This is a 3 day event, running from 29-31 December, lineup and ticket details will be available on the event's official website here.
For a big gala event to see in 2018, the Big Night San Diego is celebrating with an eclectic mix of a dozen different party areas, dance floors, live bands and DJs, huge midnight countdown in an all-inclusive party at the Hilton San Diego Bayfront.
There is another new addition to the Big Night new year parties out in nearby La Jolla, with a premium event taking place at the Hilton La Jolla Torrey Pines, including live entertainment, fully stocked bars, food buffets and a special midnight celebration. Get more details and tickets here.
The W Hotel San Diego has now been rebranded as the renaissance san Diego but they are still holding their traditional annual Black and White party, featuring an open bar and live music provided by 3 live DJs across 3 separate venues so you're sure to find something to suit your taste.
New year cruises are always a popular new year option in san Diego and it's worth checking out offers at all the local cruise companies as they all tend to host new year events and there are some truly luxurious yachts in the area. To find detailed listings of all the top events in the bars and clubs in and around the area, including new years day concerts and events, we recommend the San Diego Pipeline.
Many of the local hotels host their own new year parties, and one of the biggest this year looks to be the Howard Johnson Hotels New Years Eve Bash 2018 San Diego at Four Points by Sheraton San Diego in their Skies Lounge
Another popular party is the annual Bivouac New Year's Eve celebration at the US Grant Hotel in San Diego's historic Gaslamp Quarter. This event is held in a former speakeasy, adding a unique underground flavour to the party - get more details here.
For fans of comedy then there is a very reasonably priced event at the National Comedy Theatre, where the annual New Years Eve Spectacular features improv comedy performances, buffet dinner, party favours and a champagne toast and balloons at midnight - the event is a lively, interactive and hugelty entertaining show - it gets underway at 8.30pm, get your tickets here.
If you're in town over new year the museum ships that are anchored here, including the USS Midway, the largest aircraft carrier museum, and the Star of India are very popular visitor attractions - the Midway used to hold a new year's eve party of their own each year but that now seems to have sadly bitten the dust this too.
NYE Live Streaming, Webcams
Places to watch live online, including views over the Bay. You might not see fireworks, but it's a pretty special view anyway!
New Years Eve Hotels
There's no shortage of places to stay, although as always during the holidays it is wise to get your reservation in early. For a wide range of accommodation and to make your online booking, visit local hotels here.
Popular Pages
The content on this page is written and maintained by Martin Kerrigan. If you have found it useful then please feel free to share it with your friends and family. If you have any comments or events to add to this page please Contact us.