Kiribati & Samoa New Years Eve 2019
Fireworks, Events, Hotels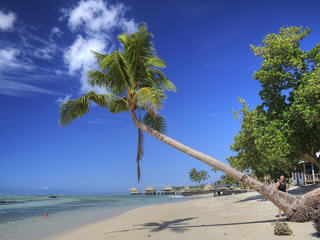 The first places to welcome the new year each new year's eve are Kiribati (also known as Christmas Island) and Samoa. We've included them here as a sinlge page largely due to curiosity value if I'm honest, as research to find any events that actually take place in these locations is tricky at best.
As many people await their new year parties though, I always find it interesting that some places can be located relatively close together on the globe but thanks to the international date line actually celebrate the new eyar a full 24 hours apart. Kiribati for instance is located only a few hours flight across the Pacific, and measured across latitude is even close still, but they have their new year parties at very different times.
Things to do
We can't track down news of any significant events in these islands, although in Samoa in particular the new year is traditionally greeted with some fireworks and tradtional dancing.
The actual time zones here vary, thanks largely to the large geographic area that Kiribati is located across. The offifical time zones are listed below, but thanks to changes in daylight savings Samoa does actually join the new year in the GMT+14 zone.
GMT+14
Line Islands, Kiribati
GMT+13
Samoa, Phoenix Island Kiribati
GMT+12
Gilbert Island, Kiribati
NYE Live Streaming, Webcams
There isn't much in the way of live webcams here, but some intrepid news reporters generally get dispatched to these remote locations on new year's eve and send back their reports via live stream, so if that is again the case this year we'll post any links right here should you be interested in watching the celebrations live.
New Years Eve Hotels
There are actually a decent number of places to stay, including several good quality hotels.
You can search for deals on all of these islands by searching for local hotels here.
Latest NYE News
The content on this page is written and maintained by Martin Kerrigan. If you have any comments or events to add to this page please Contact us.