Salzburg New Years Eve 2018
Fireworks, Events, Parties, Hotels, Restaurants
Salzburg, Austria, 31 December 2017, Midnight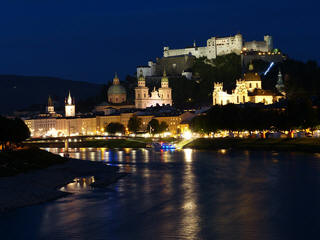 Salzburg is a wonderful city to visit at any time of year, with a fabulous range of historical sites and spectacular scenery, and at new year's eve this is improved even further by the festive atmosphere in town, with a myriad of Christmas markets (make sure you try the Gluhwein, fabulous mulled wine!), seasonal lighting and special events to mark the occasion.
There's also a very good chance that you'll have snow at this time of year to truly provide a winter wonderland with a visual impact that it's hard to match.

For visitors to Salzburg we recommend allowing at least a few days for your trip and not just to focus on the Chri9stmas and new year celebrations - you should certainly be looking to make time to check out the city's top attractions, including the Salzburger Altstadt historical centre, Salzburg Fortress, the Mirabell Palace and Gardens, Hellbrunn Castle and Salzburg Cathedral.
New Year Fireworks, Events, Parties
New year's eve in Salzburg is all about music and fireworks, with a series of classical concerts hosted across the new year period, while new year's eve itself is capped by a spectacular fireworks display at midnight.

The main focus of the festivities is the iconic Fortress Hohensalzburg, perched high on its vantage point with panoramic views across Salzburg. This makes it the perfect viewing spot to watch the fireworks display that takes place over the historic centre. The main official fireworks are launched from the fortress but there are also myriad smaller displays from private parties across the area which make an elevated view worth the extra effort.

Down in the centre itself, the main focus of the festivities is the Domplatz area and on Kapitelplatz Square, where there will usually be live music performances taking place throughout the day and evening. The bars and clubs of this area will all be hosting parties too, making it a buzzing scene to be a part of, even if you just choose to walk the streets and soak in the atmosphere.

The new year's eve and new year's day concerts at the fortress Hohensalzburg are probably what Salzburg is best known for at this time of year, featuring an orchestra performing the music of Mozart and if this is something that appeals to you then you can book to watch a concert on it's own or also with a special gala dinner to really make an evening of it. You can get all the details on the new year concerts and book your tickets online here.

For your new year's eve dining options there are some excellent choices in Salzburg. The fabulous IMLAUER Sky Bar & Restaurant is a very popular choice, not least because, as the name suggests, it has excellent panoramic views, making it a great spot from which to watch the fireworks. Other popular choices include Barenwirt, Restaurant s'Herzl, St. Peter Stiftskulinarium and Braurestaurant IMLAUER. You can see the full range of Salzburg restaurants, with online booking options, here.
NYE Live Streaming, Webcams
There is a fantastic live streaming webcam with views over the old town and the fortress, offering a perfect vantage point to watch the new year fireworks:

Salzburg webcam
New Years Eve Hotels
There are some excellent hotels in Salzburg although this is a very popular time of year so it is wise to make your reservation well in advance. Top recommended places to stay include Hotel Goldener Hirsch, Hotel Elefant, Hotel Mozart, Radisson Blu Hotel Altstadt and Hotel Stein, which offers particularly impressive views across to the fortress if you would like to be able to see the fireworks from the comfort of your accommodation.
To check availability and make reservations at these and all the top hotels in the area, you can make online bookings here.
Popular Pages
The content on this page is written and maintained by Martin Kerrigan. If you have found it useful then please feel free to share it with your friends and family. If you have any comments or events to add to this page please Contact us.