Salt Lake City New Years Eve 2019
Ball Drop and fireworks at the EVE SLC NYE party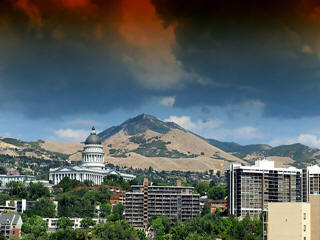 Salt Lake City is a very popular new year's eve venue, with a wide range of special events and celebrations to welcome the new year in style. One of the main features of the occasion is the growing popularity of their EVE event, a first night style public party that is actually spread over 3 days and involves venues and people throughout the city.
There is also an instance of the Decadence music festival this new year's eve in Salt Lake City, taking place at The Great Saltair - get more details here: Decadence music festival
The fact that Salt Lake City (commonly shortened to SLC - it is a bit of a mouthful otherwise!) has such a dramatic setting, with the Wasatch and Oquirrh mountain ranges dominating the skyline makes for an especially great location to watch the midnight fireworks, and also helps get it a decent spot on our bucket list!
EVE SLC
The big new year event in Salt Lake City is called EVE and actually takes place over a full 3 days starting from the 29th December. You do need a ticket for this, but at only $15 it is exceptionally reasonable priced (although you can pay more for a VIP option) and will get you into absolutely everything for the duration of the event.
The main focus this year will be the Salt Palace, which allows for more warm indoor space than the previous Gallivan Center venue.
You might also consider upgrading to the $20 a head 3 day pass which provides daily event access to art, museums, movies, Utah Jazz basketball games, ice-skating and a wider range of activities at the Salt Palace.
EVE is centred around many of the city's most popular venues, including Temple Square, The Gateway Mall, the Rose Wagner Performing Arts Center, The Leonardo and the Gallivan Center, and includes live music, a Family Festival, dance parties, laser shows, ice skating, arts, sports much more. The culmination of the event is of course the spectacular fireworks display at midnight. Crowds of up to 40,000 are expected at this year's event.
The highlight of the 2019 new year EVE party in SLC will again be a mirror ball drop instead of the more traditional fireworks. The spectacular Mirror Ball measures 20 feet in diameter and weights almost 2500 pounds! This will be accompanied by music and a light show to try and replicate the pyrothechic effect.
Parties & Events
Most people in SLC for new years, especially those with families, will be at EVE at least at some point, but for those with livelier requirements there are plenty parties at the city's bars and clubs to choose from too. Main events and ticket details to follow.
Restaurants
For a more civilised evening, or maybe just to charge the batteries before heading on to something more extreme, the restaurants of Salt Lake City will have an eclectic range of new years offerings to cater to pretty much any taste.
There are over 1000 restaurants in the urban area, and top recommendations include Red Iguana, Lone Star Taqueria, Bambara, Copper Onion and for a veggie option, Sage's Cafe. See all the available eateries here.
NYE Live Streaming, Webcams
Places to watch live online - there are some great live webcam views in Salt Lake City that can help give you a feel for the place as the new year party is going on, including a live feed from Main Street. There are also some good skyline views to watch out for the fireworks:
New Years Eve Hotels
If you're planning on visiting Salt Lake City for new year's eve then be aware it will be busy everywhere, so an early reservation is strongly recommended. You can search, check availability and book local hotels here.
Latest NYE News
The content on this page is written and maintained by Martin Kerrigan. If you have found it useful then please feel free to share it with your friends and family. If you have any comments or events to add to this page please Contact us.