Salt Lake City New Year's Eve 2019
Guide to new year's eve 2018-2019 in SLC; NYE fireworks, events, parties & hotels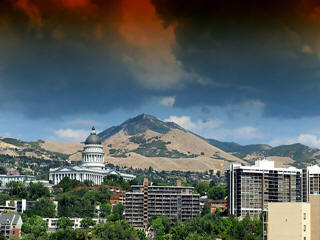 Salt Lake City is a very popular new year's eve venue, with a wide range of special events and celebrations to welcome the new year in style. One of the main features of the occasion has in the past been the EVE SLC party, but this was retired last new year and replaced with a new event called the Last Hurrah.
There is also an instance of the Decadence music festival this new year's eve in Salt Lake City, taking place at The Great Saltair - get more details here: Decadence music festival
The fact that Salt Lake City (commonly shortened to SLC - it is a bit of a mouthful otherwise!) has such a dramatic setting, with the Wasatch and Oquirrh mountain ranges dominating the skyline makes for an especially great location to watch the midnight fireworks, and also helps get it a decent spot on our bucket list!
The Last Hurrah
Replacing the multi-day EVE SLC last year was a new, single day event taking place on December 31st only called the Last Hurrah.
The new event also saw the famous mirror ball that featured in the midnight ball drop being retired, although the downtown area was still the main focus of the celebration, featuring the main stage with live music acts performing throughout the evening.
The last Hurrah is still a free event to the public, and runs from 8pm to midnight. As well at the outdoor stages there are 2 indoor party areas, including a Speakeasy Lounge and a Game Room. There is also still fireworks display at midnight.
Parties & Events
Most people in SLC for new years, especially those with families, will be at the public party at least at some point, but for those with livelier requirements there are plenty parties at the city's bars and clubs to choose from too. Main events and ticket details to follow.
Restaurants
For a more civilised evening, or maybe just to charge the batteries before heading on to something more extreme, the restaurants of Salt Lake City will have an eclectic range of new years offerings to cater to pretty much any taste.
There are over 1000 restaurants in the urban area, and top recommendations include Red Iguana, Lone Star Taqueria, Bambara, Copper Onion and for a veggie option, Sage's Cafe. See all the available eateries here.
New Year's Eve Hotels
If you're planning on visiting Salt Lake City for new year's eve then there are a great number of top hotels to choose from, with all the major chains well represented.
You can search, check availability and book local hotels here.
NYE Live Stream
Places to watch live online - there are some great live webcam views in Salt Lake City that can help give you a feel for the place as the new year party is going on, including a live feed from Main Street. There are also some good skyline views to watch out for the fireworks:
Latest NYE News
The content on this page is written and maintained by Martin Kerrigan. If you have found it useful then please feel free to share it with your friends and family. If you have any comments or events to add to this page please Contact us.