Sacramento New Years Eve 2018
Fireworks, Events, Parties, Hotels, Restaurants, Concerts
Sacramento, California, 31 December 2017, Midnight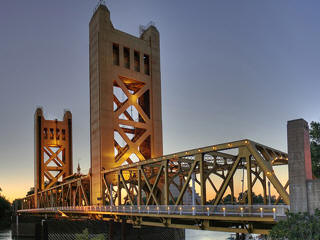 There is no shortage of things to do in Sacramento on new year's eve, with a large public party and fireworks display supplemented by a large number of provate events at the city's many bars, hotels and restaurants.
Sacramento is the capital of the state of California and has a population of around half a million. This makes for some big crowds come new year's eve and I'm pleased to see the city takes it's responsibilities seriously, with a decent range of publicly funded entertainment to mark the occasion, as well as a huge selection of private parties in the town's many clubs, hotels and restaurants.
New Year Fireworks, Events, Parties
Sacramento hosts a free new year's eve party for it's citizens, including a main stage with live music and entertainment, children's entertainment, street artists plus of course the ubiquitous food and drinks stalls.
The whole event kicks off from around 6pm. A lot of the city's roads are closed due to the NYE events, but public transport times are extended so I would recommend using that if you can.
Then of course you have the fireworks, officially titled the New Year's Eve Sky Spectacular they take place in 2 sections, the family friendly 9pm show followed by the main display at midnight, which is billed as a Sky Concert, with the fireworks being set to classical music for added dramatic effect.
There are some fireworks launched from land, but the majority will be from the city's iconic Tower Bridge, so when you're looking for a decent vantage point make sure you can see that!
Away from the main event, the city's clubs and bars will of course be getting in on the act with a range of parties to take you into the small hours. One big event is at the Splash Nightclub downtown, where they'll be holding their annual party. Ticket details to follow.
If you're looking for somewhere to eat out before you head off to your chosen party then you'll be spoiled for choice in Sacramento, with all popular cuisines more than catered for. Top venues include The Kitchen, Tako Korean BBQ, Seasons 52, Carpe Vino and The Firehouse. Check out all the local restaurants online here.
NYE Live Streaming, Webcams
Places to watch live online - there are a number of webcams in the area, including a pretty decent city skyline view:
The music from the midnight fireworks show is also simulcast on local radio station 96.9 The Eagle.
New Years Eve Hotels
If you're planning on visiting Sacramento over the New Year period, then making you hotel booking as soon as possible will save you a lot of time and probably money, plus reduces the risk of missing out completely! You can search, check availability and book local hotels here.
Popular Pages
The content on this page is written and maintained by Martin Kerrigan. If you have found it useful then please feel free to share it with your friends and family. If you have any comments or events to add to this page please Contact us.