Sacramento New Year's Eve 2019
Sky Spectacular fireworks, top hotels, bars & restaurants for new year 2018-2019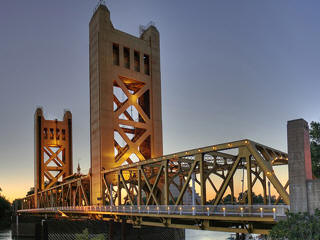 Sacramento's new year's eve celebrations are centred around the New Year's Eve Sky Spectacular party, a free public event combining live entertainment with food, drink, dancing and of course the huge fireworks display come midnight.
Away from the main event there are no shortage of new year party alternatives, with a wide range of hotels, bars and restauarants hosting their own NYE events, from family friendly to loud and lively, meaning pretty much any taste and requirements are catered for.
New Year's Eve Sky Spectacular
Sacramento hosts it's annual free new year's eve party, a lively and popular event that includes a main stage with live music and entertainment, children's entertainment, street artists plus of course the ubiquitous food and drinks stalls.
The NYE party kicks off from around 6pm, and the climax is of course the fireworks, the New Year's Eve Sky Spectacular that gives the event it's name.
The fireworks take place in 2 sections, the family friendly 9pm show followed by the main display at midnight, which is billed as a Sky Concert, with the pyrotechnics being set to classical music for added dramatic effect.
There are some fireworks launched from land, but the majority will be from the city's iconic Tower Bridge, a useful central location to maximise the viewing locations along the river banks and in the surrounding areas.
Parties & Events
Away from the main event, the city's clubs and bars will of course be getting in on the act with a range of parties to take you into the small hours. One big event is at the Splash Nightclub downtown, where they'll be holding their annual party.
Other top parties in Sacramento this new year's eve include:
- A Great Gatsby New Year's Eve Ball at Knobs and Knockers
- New Year's Eve at the Hyatt Regency
- New Year's Eve at The Park Ultra Lounge, downtown
- DJ Larry's New Year's Eve Dance Party at the Fox & Goose on the R Street Corridor
- Venetian Masquerade at Revival at the Kimpton Sawyer Hotel
- New Year's Eve Gala with the Sacramento Jazz Cooperative in the Masonic Temple Ballroom
Restaurants
If you're looking for somewhere to eat out before you head off to your chosen party then you'll be spoiled for choice in Sacramento, with all popular cuisines more than catered for.
Top venues include The Kitchen, Tako Korean BBQ, Seasons 52, Carpe Vino and The Firehouse. Check out all the local restaurants online here.
New Years Eve Hotels
Hotels are in plentiful supply, and many offer special packages to encourage you to stay and enjoy their own new year parties along with your accommodation. The Hyatt Regency is typically a notable entry in this category.
You can search, check availability and book local hotels here.
NYE Live Streaming, Webcams
There isn't usually live TV coverage of the Sacramento fireworks, but you will of course find highlights from the event very shortly afterwards on the local news networks.
To watch live you best option therefore is to check out some of the local webcam views - there are several in key locations across the city:
The music from the midnight fireworks show is also simulcast on local radio station 96.9 The Eagle.
Latest NYE News
The content on this page is written and maintained by Martin Kerrigan. If you have found it useful then please feel free to share it with your friends and family. If you have any comments or events to add to this page please Contact us.