Rügen New Years Eve 2019
Fireworks, Events, Parties, Hotels, Restaurants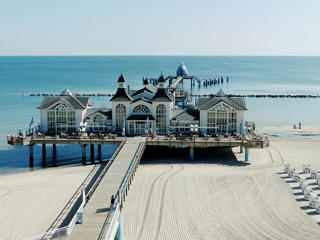 Oh I do like to be beside the seaside and Rügen offers a slightly more sedate way of spending this New Years Eve. This gorgeous German island is a wonderful place to come and get away from it all without forgoing your Christmas and New Year party spirit. If you are there early on in December you can catch the Binz Christmas Market and from my own past experience, Germans really know how to do Christmas Markets!
In Rügen you can don your hiking boots and get out walking, although it's more than likely going to be a bit chilly, wrap up and get out exploring this lovely island. With epic long beaches which will be quiet during winter, to the stunning chalk cliffs. Make sure you go and see The Königsstuhl and also take time for a journey on the Rügen narrow-gauge railway.
Things to do
Just like the Christmas Market, many people will be gathering in Binz Kurpark for New Years Eve, with music, dancing and a great fireworks display down at the pier.

If you are in Gohren then head to the beach for the traditional New Years Eve party, Strandkorbester Silvester, where you can enjoy the medieval market and entertainment, dance along to the band and join in the celebrations free on the beach, at midnight grab your spot on the sand and watch the wonderful fireworks.

Staying closer to Sellin, then you should venture to the pier for midnight fireworks.

Many of the Island's hotels have some great New Years Eve events if you prefer to stay indoors, just remember to make your reservations in advance to make sure you don't miss out.

There are some glorious restaurants on the Island of Rügen, here are just a small sample to choose from:

Freustil (Ostseebad Binz)
Zum Skipper (Sellin)
Kapitansklause (Gohren)
Brasserie Loev (Ostseebad Binz)
La Stanza Vinoteca e Bar (Gohren)
NYE Live Streaming, Webcams
Looks like there is a live webcam from Gohren
Also a live webcam of the beachfront at Binz including Seebrucke Binz
New Years Eve Hotels
Rügen has a wonderful selection of hotels to stay in for New Years Eve, book now for your festive getaway:

Dorint Strandhotel Binz/Ruegen
Grand Hotel Binz
Arkona Strandhotel
Best Western Alexa Hotel
Ceres Hotel
You can search for deals at all of these venues, plus other local hotels here.
Latest NYE News
The content on this page is written and maintained by Yvonne Kerrigan. If you have any comments or events to add to this page please Contact us.