Rome New Year's Eve 2019
Guide to the top Rome new year's eve parties, fireworks, restaurants & events for NYE 2018-2019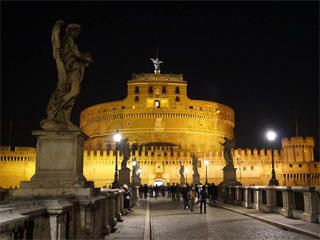 Rome has always been a fabulous city to visit on new year's eve, but last year the party options were extended further with a big new event at the Circus Maximus, offering live entertainment throughout the evening culminating in a spectacular fireworks display at midnight.
Elsewhere across city there are public gatherings at many of the most famous sites, with The Colosseum, Piazza di Spagna, Piazza Navona and Monument of Vittorio Emanuele II all playing host to a variety on new year parties and events.
Circus Maximus New Year Party
The big new year's eve party in Rome again this year promises to be the event at the Circus Maximus, with live entertainment throughout the evening from a variety of DJ's, dance acts and live performers.
The climax of the show is a spectacular fireworks display at midnight, launched from the adjacent Palatine Hill and accompanied by music and a light show. The Palatine Hill has recently been permanently illuminated once again after years of darkness, which only helps add to the visual effect.
Piazza del Popolo Party
There is a large public gathering every new year's eve in the Piazza del Popolo, with locals getting together to listen to music, dance, eat and drink while they wait for the fireworks at midnight. If you're on a budget this event is worth checking out just for the friendly festive atmosphere, with street vendors and local takeaways offering cheap new year dining options.
NYE Fireworks
As well as the big show from the Palatine Hill, there will be fireworks right across Rome when midnight arrives, continuing for a good 15 minutes or so right across the city skyline.
For the best views we advise heading up to high ground to one of the city's many top vantage points. Best locations for seeing the most pyrotechnics would include Gianicolo Hill, The Piazza del Popolo (head up to the Villa Borghese hill overlooking the square if you can grab a spot) and many of the rooftop restaurants and bars across the city.
New Year's Eve Concerts
Live music features very prominently in the Rome new year celebrations, with live classical performances being especially popular. There are typically live shows at a wide varierty of venues, including:
Roma Auditorium Parco della Musica
Piazza Sant' Anastasia
Ponte della Scienza
Teatro India
We'll have the exact performance details for these venues as soon as they're confirmed.
Amore Music Experience
Speaking of concerts, a very popular feature of the Rome new year's eve festivities for many years now, the Amore Music Experience is an electronic dance festival taking place in the heart of the city and attracting huge crowds of young Romans to dance their way into the new year.
The venue has changed over the years, with the most recent event taking place at Cinecitta World on Via di Castel Romano, starting at 6pm on December 31st and continuing right through until 8am on new year's day.
To get all the latest updates on this year's festival, including lineup announcements and online ticket sales, visit the official site here.
We Run Rome
For those of an athletic persuasion, new year's eve also sees the We Run Rome marathon event taking place, with a scenic course that starts and finishes near the spectacular Baths of Caracalla.
This attracts both competitive and non-competitive runners, with around 10,000 taking part each year.
Rome New Year Parade
If you're in Rome for new year then be sure to stick around for the Rome New Year Parade, which takes you from the Castel Sant Angelo to St Peter's Square at the Vatican, where you can watch Pope Francis' new year address to the crowds and the watching world - see here for more information: Rome new year parade
The parade that travels from the via della Conciliazione to Saint Peter's Square, so greet the New Year with the new year service at The Vatican, so if you don't have too much of a hangover that should be well worth joining.
Security in an around Vatican City is especially tight at this time of year, so be sure to allow plenty of time for your visit, the queues can be exceptionally long, although you will find several people in the area offering skip the line tickets for a relatively reasonable cost if your time is limited.
New Year's Eve Hotels
You won't have any problems finding a place to stay in Rome for the holiday season as the city and environs has literally thousands of places to choose from, but booking well in advance is always advisable for the best possible choice. Top establishments to consider include:
Grand Hotel de la Minerve at the Pantheon
Grand Hotel Plaza close to the Spanish Steps
Hotel Lord Byron, Villa Borghese
Hotel Palazzo Manfredi near the Colosseum
You can search for deals at all of these venues, plus other local hotels here.
Live streaming webcams
Places to watch live online, including live views of the city skyline and a cam at the Roman Forum:
Latest NYE News
The content on this page is written and maintained by Martin Kerrigan. If you have found it useful then please feel free to share it with your friends and family. If you have any comments or events to add to this page please Contact us.