Reno New Year's Eve 2019
Downtown fireworks, NYE street party and top casinos for new year's eve 2018-2019 in Reno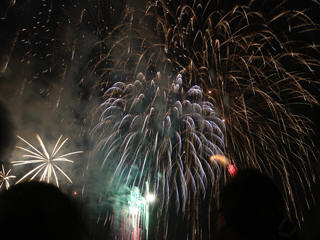 Reno has been holding increasingly impressive new year's eve fireworks displays in recent years, and with the addition of live TV and online streaming coverage more people than ever can see in the new year with a great show from Reno!
When you look for things to do on New Years Eve in Nevada then people automatically think of Las Vegas, and with good reason as the casino capital's famous strip has probably more fireworks and celebrity performers per square inch than anywhere else in the world. However, the county seat is still Reno, and this town is no slouch itself when it comes to throwing a grand scale new year party!
Now it seems to me that of you're in Nevada for new years and looking for somewhere to join the party then you're almost certainly headed for Vegas, but if you fancy something just a little less predictable, or maybe you've done the Vegas thing already, then Reno certainly looks like a pretty decent alternative, especially with the nearby Lake Tahoe to visit if you're also looking for some chillout time and more scenic diversions.
Downtown Fireworks
The major event in Reno for New Years Eve is the annual Downtown midnight countdown and fireworks display. The 13 minute display takes place from 3 different rooftops, launching thousands of pyrotechnics skywards that can be viewed from right across the city landscape. The show will also be shown live on TV and online - see below for details in how to watch.
NYE Street Party
The fireworks are preceded by a street party that takes good advantage of the balmy Nevada winter weather to get everyone out and joining the party, so be sure to get there early!
The party starts at 10pm and lasts until around 1pm, with the highlight obviously coming at midnight where the fireworks are launched from the roofs of the nearby casinos, which this year will be the lower level rooftop of Harrah's and upper and lower rooftops of the Silver Legacy.
The main crowds tend to gather around the iconic Reno Arch and along Virginia Streeet to watch the show, although they will be visibile form further afeld too if you prefer to avoid the main crowds.
JA Nugget New Year Dance
Away from the main event, many of the hotels and casinos join in with their own special events to capitalise on the occasion. For new year's eve 2019 there is a big event at the JA Nugget, who are hosting a grand new year dance party in their Celebrity Showroom with midnight countdown and free champagne toast.
Grand Sierra New Year's Eve Show
There is also a new year's eve show at the Grand Sierra resort and casino.
The city's other main casinos will also be vying for business on what is one of the busiest nights of the year in this party town - particular favourite venues are the Peppermill Hotel Casino, the Eldorado Hotel and Casino, New Year's Eve at Harrah's Reno in downtown and Silver Legacy Resort and Casino.
Restaurants
For dining options a lot of the most popular restaurants in town are those located in the big casinos, especially those with the big buffets, but there are a wide range of local an international choices too. Steakhouses are especially well regarded here and the Atlantis Steakhouse at Atlantis Casino Resort Spa, Sterling's Seafood Steakhouse and Bimini Steakhouse always attract rave reviews. Check out the full range of dining possibilities here.
NYE Live Streaming, Webcams
Places to watch live online, including a live cam stream from the Reno Arch on Virginia Street:
The midnight fireworks will also be shown live on TV on local channel Reno KRNV News 4, which you can also watch as a live online stream here:
New Year's Eve Hotels
The hotels and casinos in Reno offer a range of special offers to draw in business for their new year parties, so it's well worth shopping around to find the best deals.
You can start your search for local hotels here.
Latest NYE News
The content on this page is written and maintained by Martin Kerrigan. If you have found it useful then please feel free to share it with your friends and family. If you have any comments or events to add to this page please Contact us.