Raleigh New Year's Eve 2019
New year's eve in Raleigh - First Night fireworks and The Acorn Drop for NYE 2018-2019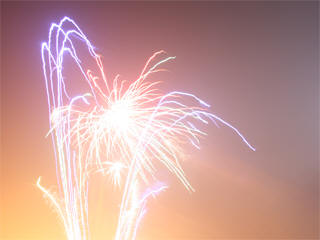 First Night Raleigh is the big new year's eve party to look out for here, with family friendly entertainment anf spectacular fireworks forming the focal part of the city's new year celebrations.
Raleigh is another US city that has enthusiastically embraced the almost uniquely American phenomenon of the the First Night party to celebrate new year's eve, holding their own large scale public event to draw crowds for entertainment, music and of course fireworks to welcome the new year.
First Night Raleigh
The crowds in Raleigh head down to City Plaza and the downtown area on new year's eve for a full day of events under the city's First Night Raleigh banner, a family friendly event that attracts visitor numbers measured in the tens of thousands.
As is common with these events you do need a ticket or "button" to gain access to the festivities - an all day pass will only set you back 10 dollars though so it's very reasonably priced - you can get yours online here.
The main events get underway at 2pm, with the start of 4 hours of entertainment aimed at the city's children, before moving on to the People's Procession at 6pm, which culminates in the family fireworks display at 7pm.
The Acorn Drop
There is then live entertainment throughout the evening at various venues (the main stage is at City Plaza) before the climax of the evening at midnight, where along with the spectacular fireworks we have the unique spectacle of an Acorn Drop! Performers this year include Cane Mill Road and the Triangle Youth Jazz Ensemble. There is also a Fantastical First Night Ferris Wheel and a giant swinging pendulum on Fayetteville Street - both are open from 2pm.
NYE Downtown Raleigh
There is a big party with great views of the Acorn Drop at the Raleigh Sheraton Center City, where their official new year celebration also features 3 Ballrooms, 3 DJs, "Live" Band, VIP/Open Bar Option, Party Favors, Photo Booth, Complimentary Champagne for VIP Guests and much more. Get more details and secure your tickets here.
New Year Symphony
Another very popular traditional new year event in Raleigh will appeal to the more culturally inclined - the North Carolina Symphony Orchestra's special new year's eve concert, which gets underway at the Meymandi Concert Hall at 8pm, and they make sure they finish before midnight so you don't have to miss the fireworks! Ticket details to follow.
Bars & Restaurants
Elsewhere, the local hotels, bars and restaurants host an impressive range of parties to mark the occasion - top venues include the Raleigh Marriott City Center Downtown, North Raleigh Hilton and the Progress Energy Center.
If you're looking for somewhere to dine out in Raleigh on new years eve there is an excellent range of locations to choose form, with most cuisines and budgets covered. Top recommended joints are the Second Empire Restaurant and Tavern, Caffe Luna and 42nd St. Oyster Bar & Seafood Grill. Top veggie choice is Azitra Restaurant. See the full range of local eateries here.
NYE Live Stream
Places to watch live online - no TV coverage that we're aware of, but there are some decent webcam views of the city skyline available which should help you catch a look at the fireworks if you so desire:
New Year's Eve Hotels
If you're planning on visiting Raleigh and North Carolina over the New Year period, then it will be busy so you really need to be making your reservation as soon as you can.
You can search, check availability and book local hotels here.
Latest NYE News
The content on this page is written and maintained by Martin Kerrigan. If you have found it useful then please feel free to share it with your friends and family. If you have any comments or events to add to this page please Contact us.