Prague New Years Eve 2019
Celebrations for new year's 2018-2019 in Prague; top fireworks, hotels & parties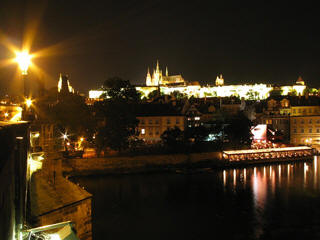 Prague, the capital of the Czech Republic, enjoys a hard won reputation as a party city, and crowds flock from across Europe to enjoy their New Years Eve party. As with most European capitals, the centre piece of the event in the midnight fireworks display, where Prague Castle provides an impressive backdrop, while popular viewing points for the countdown include the Charles Bridge, overlooking the River Vltava.
The city's reputation has suffered somewhat in recent years, with the stag and hen party craze leading to some less than ideal experiences, but it is a place more than big enough to accommodate most tastes and requirements, so with a little forward planning you shouldn't have too many problems avoiding the more rowdy crowds (unless of course that's what you're looking for!) and finding something to your personal tastes.
In terms of prices, although they have increased a little of late, Prague remains one of the more affordable European city break destinations, and with regular flights from budget airlines such as Easyjet and Ryanair arriving all year round getting there shouldn't be too much of a problem either.
New Year Fireworks
Top NYE events in Prague tend to centre around seeing the fireworks, so when midnight arrives competition for the best vantage points can be pretty fierce. Most people try to head for anywhere on or overlooking the river, which generally means near the central Charles Bridge, Prague Castle or on Petrin Hill.
Prague is a little unusual in that the main official fireworks display is actually on New Years Day, usually around 5pm with the fireworks launched from barges on the river, this is a much more family friendly option than the somewhat random nature of the new year's eve displays, which can get a little crazy.
The best views are from the bridges over the river, especially the Charles Bridge and the Manes Bridge - I would recommend heading down there to get the best view, they all get pretty crowded, especially the Charles Bridge, so get down early to get a decent spot.
On new years eve itself the will be large crowds just choosing to gather on the city's busy streets or the Old Town Square, while bars and restaurants with balconies with decent views tend to find spaces at a premium. Also, the many boats on the river gather close to the Charles Bridge just before midnight, so those on board can enjoy the best possible unhindered viewing platform.
River Cruises
In fact, talking a river cruise is one of the best options for seeing in the new year in Prague, and there are plenty of local boat companies offering this service. Praha Parnikem have a selection of new year cruise offerings, including live music, all inclusive dinners and of course the best fireworks views - details here.
Bars & Clubs
Prague has in recent years developed something of a reputation as a party capital, drawing young visitors from across Europe to it's many lively bars and clubs, and this is reflected in the top notch NYE party selection. Top venues include the Mecca Club, Club Radost FX and Obcanska Plovarna, which has a great view over the Vltava river.
Another big party option this new year is to head to the Prague Hard Rock Cafe, where there will be a full program of live music with food and drink in plentiful supply.
Classical Concerts
For those of a more cultural inclination, then there are a fantastic variety of classical concerts to select from too. The biggest is probably the The Prague State Opera, which you can also accompany with dinner before and dancing afterwards as part of a complete evening of entertainment.
New Years Eve Hotels
The hotels in Prague do tend to bump up their prices over the new year period, so you can expect to pay a premium, especially for a location offering river views, such as the Malmaison and The Four Seasons.
The Prague Hilton is also a very popular choice thanks to it's private party and fireworks display. The Mark Hotel also offers a private fireworks display in it's garden.
You can search, check availability and book all of the top Prague hotels here.
Restaurants
Top parties in Prague for New Years Eve 2019 include those held at the Aloha Bar & Club in the Old Town Square, Vytopna Railway Restaurant in Wenceslas Square, Konirna Restaurant, U Mecenase Restaurant, U Ceskych Panu Medieval Restaurant, Novomestsky Pivovar Restaurant & Brewery and Bily Konicek Restaurant & Jazz Club.
For a full selection of Prague restaurants for new year's eve click here.
NYE Live Streaming, Webcams
Places to watch live online, including fantastic live webcam streams from Charles Bridge, Prague Castle, Wenceslas Square and the Old Town Square, where many of the big new year parties are taking place. Should be some decent views of the fireworks at midnight too:
There is also a new, live streaming webcam in the Old Town Square, with views over the Astronomical Clock and the Church of Our Lady before Tyn:
Latest NYE News
The content on this page is written and maintained by Martin Kerrigan. If you have found it useful then please feel free to share it with your friends and family