Pittsburgh New Year's Eve 2019
First Night Pittsburgh, NYE fireworks, packages and celebrations for new year 2018-2019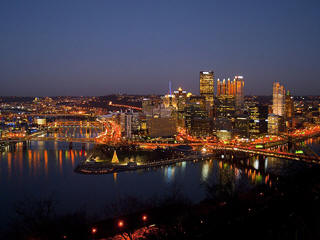 First Night Pittsburgh is a new year party on a grand scale that draws huge crowds to the downtown area for an evening of music, dancing, live entertainment and of course fireworks!
Pittsburgh is another US city that has fully embraced the tradition of a First Night event to mark the end of the old year and arrival of the new, and here it has been taking place each year since 2002 and is organised annually by the Pittsburgh Cultural Trust, a nonprofit organisation focused on the development and ongoing regeneration of the city's downtown area.
First Night Pittsburgh
The main event is the Highmark sponsored First Night Pittsburgh celebration, a range of events centred around the downtown Cultural District and featuring live performances, plentiful food and drink options and of course the fireworks display, which forms the climax of the Countdown to midnight, which also includes the raising of a 1000 pound ball 150 feet above Penn Avenue Place and the pyrotechnics show provided by Zambelli.
The event starts at 6pm and you do need to buy "buttons" which act as passes to most of the attractions.
One of the main features is the FedEx Ground Parade, starting at 8pm at the David L. Lawrence Convention Center and travelling down Penn Avenue, whwere there are great viewing spots on weither side of the street. The parade includes various performance groups with plenty of surprises planned as well.
For those with younger children who may not be willing or able to stay up until the climax of the main party at midnight Penn Avenue Place is the place to head for, where the Dollar bank Children's Fireworks display gets the whole event underway from 6.00pm.
Special events on new year's eve also take place at the Fire & Ice plaza located at Penn Avenue and 8th Street, where an Ice Creations event will be held, including ice carving, fire dancers, jugglers and a 10.30pm fireworks finale.
NYE Parties & Events
Elsewhere in town, the bars and clubs of Pittsburgh will be doing their bit to keep the younger crowd going into the small hours with a wide selection of NYE parties. Places to look out for are the Stage AE, Cavo, Static, MiXX Lounge, AJ Palumbo Center and the increasingly pervasive NYE Til The Ball Falls Bar Crawl - ticket details to follow.
With a setting at the conjunction of 3 different rivers - the Ohio, the Monongahela river and the Allegheny - then as you would expect there are water-based choices for the new year here too. The city's famous Gateway Clipper Fleet of riverboats host several new year parties.
Restaurants
For your new year dining options then Pittsburgh has plenty to choose from too, with highly regarded venues such as Nine On Nine, Tamari Inc, Spoon, Point Brugge Cafe, Legume and Centi Anni Alla Famiglia. See the full range of eateries, with reviews and online booking here.
New Year's Eve Hotels
Pittsburgh has an excellent range of accommodation choices, including many top hotels, many of which will also be hsoting their own private new year's eve parties and offer special packages for the event.
You can search, check availability and book local hotels here.
Live Streaming, Webcams
There are several live webcam feeds of the city that you can access online, including some skyline views that should capture the midnight fireworks nicely:
Latest NYE News
The content on this page is written and maintained by Martin Kerrigan. If you have found it useful then please feel free to share it with your friends and family. If you have any comments or events to add to this page please Contact us.