Pisa New Years Eve 2019
Fireworks, Events, Parties, Hotels, Restaurants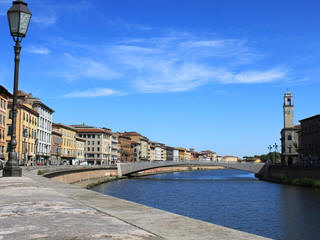 Should you be planning a visit to Pisa for New Years Eve, you can expect to be wowed by the festive atmosphere that surrounds the city during December, from Christmas Markets to live entertainment, taking the kids to see Santa and indulging in a cup of hot chocolate whilst you walk around this beautiful place.

Pisa is perfectly placed too if you want to jump on the train for some day trips, including Florence, Lucca and also the Cinque Terre if you're feel like exploring. But even if you just stay put in Pisa, take long walks along the river, wander through the streets and get to know the place, there's some fabulous street art, beautiful gardens like Giardino di Scotto and of course go see the Leaning Tower of Pisa and Duomo Pisa… There are lots of street vendors too selling their wares. The last time I visited they had beautiful jewellery made from silver spoons and forks which was quite impressive.
Things to do
They know how to party in Pisa for New Years Eve and the beautiful city centre piazzas will be brimming with people looking to celebrate and have a great time. Pisa is very family friendly and there is lots of entertainment to keep you busy on the 31st December.

There are some amazing fireworks over the Arno River so position yourself towards the city centre and the Ponte Di Mezzo to get a great view. Pizza Garibaldi and Piazza XX Settembre will be 2 of the busiest squares but well worth looking out.

The bars and restaurants will have some great New Years events planned, so keep an eye out on the venues for updated information.

Try some wonderful Italian cuisine, but make sure that you make your dinner reservations for New Years Eve well in advance:

Gusto al 129
La Taverna di Pulcinella
Quarto D'ora Italiano
Il Peperoncino
Il Bistrot
NYE Live Streaming, Webcams
Great little webcam for Pisa here:
New Years Eve Hotels
Pisa is a stunning city to stay in and will be busy at this time of year so book in advance to get the perfect room:

Hotel Pisa Tower
Bologna Hotel Pisa
Hotel Alessandro della Spina
Hotel Di Stefano
Grand Hotel Bonanno
You can search for deals at all of these venues, plus other local hotels here.
Latest NYE News
The content on this page is written and maintained by Yvonne Kerrigan. If you have any comments or events to add to this page please Contact us.