Pensacola New Years Eve 2018
Fireworks, Events, Parties, Hotels, Restaurants, Concerts
Pensacola, Florida, 31 December 2017, Midnight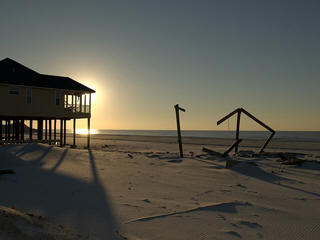 The Pelican Drop for new year 2018 in Pensacola looks unlikely to go ahead this year die to funding issues, but people are being encouraged to head downtown regardless, where there will still be a big new year's eve party.
Pensacola hosts a series of events to welcome the new year, including the now famous Pelican Drop and reflecting the popularity of new year's eve celebrations in the coastal regions of Florida and drawing large crowds outdoors to enjoy the seasonably clement weather in this part of the world over the festive season.
As a waterfront city, Pensacola has an ideal setting for watching fireworks on new year's eve, and most of the local attractions are very much beach based, although there are also sights such as the National Naval Aviation Museum and Historic Pensacola Village that are worth checking out.
New Year Fireworks, Events, Parties
As another city that likes an alternative to the traditional midnight ball drop, Pensacola offer us their own version in the shape of the Pelican Drop. This is a free event that takes place in downtown Pensacola with a full afternoon and evening of entertainment including live music on 2 different outdoor stages.
The climax of the party of course comes at midnight, when the 14 foot tall, 20 feet wide Pelican that gives the event its name is dropped from a platform suspended 100 feet over the corner of Garden and Palafox Streets.
Latest: If the Pelican Drop is cancelled as expected, people are still being encouraged to ehad to the downtown area where there will still be partie sin the many restaurants and bars. It's hoped the absence of the Pelican Drop will be for one year only.
There are also new year fireworks too of course - there is an earlier small display aimed at the kids that takes place at 8pm from the Pensacola Beach Boardwalk, followed by the main event at midnight, a spectular fireworks show over the beach, accompanied by confetti and music.
For those looking for a more cultural diversion, the Pensacola Symphony Orchestra perform their annual Celebrate the New Year! concert at the Saenger Theatre. The show starts at 7pm and is finished by 9pm so you still have time to get outside and enjoy the street party and fireworks.
If you're staying in town for new year's day and are feeling up to it there is the annual Polar Bear Plunge, where hardy souls head down to the beach from around noon to chase away their hangovers with a plunge into the Santa Rosa Sound.
NYE Live Streaming, Webcams
There are several live webcam views on Pensacola Beach, bringing to close to the new year celebrations, and as they are live streaming cameras you may even get a front row view of the fireworks:
New Years Eve Hotels
There are plenty of hotels to choose from in Pensacola, many located right on the beach. Try the Hilton Pensacola Beach or the Hampton Inn for fireworks views.
You can search for deals at all of these venues, plus other local hotels here.
Popular Pages
The content on this page is written and maintained by Martin Kerrigan. If you have any comments or events to add to this page please Contact us.