Paphos New Years Eve 2018
Fireworks, Events, Parties, Hotels, Restaurants
Paphos, Cyprus, 31 December 2017, Midnight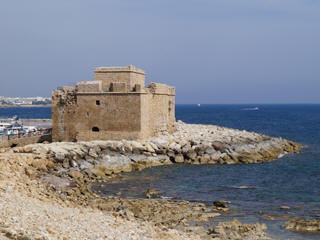 Cyprus is a great place to visit if you would like some winter sun over the Christmas and new year period, with warm weather and at least some sunshine pretty much guaranteed. Some of the resorts on the east coast of the island tend to close down over the winter season so if you're looking for a more lively resort then you're best to head over to Paphos (known locally as Pafos) on the west coast.

As well as the beaches (head a few miles up the coast to Coral Bay for some of the best) there is plenty to keep you entertained in Paphos even at this time of year. The picturesque harbour with it's iconic castle will be decorated with festive lights for the season while you are also within easy reach of the spectacular unspoiled scenery of the Akamas peninsula, the Tombs of the Kings and the tranquil traditional harbour villages of Polis and Latchi.
New Year Fireworks, Events, Parties
There aren't any official municipal fireworks for new year's eve in Paphos but there will still be plenty of pyrotechnics come midnight as many hotels and private parties launch their own displays, so if you're anywhere with a decent vantage point you'll see some fireworks for sure.
For your new year's eve celebrations, most of the hotels hold a gala dinner event for the occasion, usually including entertainment, buffet style dining and plenty of local drinks to help keep you going. You can usually attend these parties whether you're staying in the hotel or not and they do tend to represent pretty good value, a good sign being that they will generally be full of locals as well as tourists.

You will need to make sure you book your place well in advance though - some of the best hotels to check out are the luxurious Elysium, the Louis Phaethon, The Almyra, Alexander the Great or up in Coral Bay the Coral Beach Hotel and the Crown Resort. There's a link for checking availability and online booking for all of these hotels a little further down the page.

It's a similar situation with the local restaurants - most will be open and offering special new year's eve menus, but you will need to book you spot in advance for the more popular places.

For post dinner entertainment then the bars and clubs of the harbour area and the adjacent aptly named Bar Street will keep the party going until the early hours of new year's day, while along in Coral Bay there will also be plenty of bars open until late.
NYE Live Streaming, Webcams
There is a good selection of live webcam views across the Paphos area if you fancy tuning in to try and get a look at the new year fireworks - check out some of the best ones here:

Paphos webcams
New Years Eve Hotels
We're mentioned some of the top hotels above, but there are also a good selection of hotel apartments if you prefer self catering or are on more of a budget. If you aren't hiring a car then try to stick to the areas around the harbour or out in Coral Bay as they have the best public transport links.
To check availability and make reservations at these and all the top hotels in the area, you can make online bookings here.
Popular Pages
The content on this page is written and maintained by Martin Kerrigan. If you have found it useful then please feel free to share it with your friends and family. If you have any comments or events to add to this page please Contact us.