Ottawa New Year's Eve 2019
Guide to the top NYE parties, fireworks, hotels & events in Ottawa for new year 2018-2019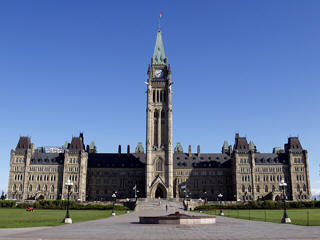 Ottawa hosts a spectacular new year's eve party as you would expect of the nation's capital city, with a spectacular midnight fireworks display the climax to an evening of outdoor entertainment that draws huge crowds to the downtown area and the busy streets around the city's iconic Parliament Hill.
Previous years have seen the party centred on the Sparks Street area, with stages for live music and fireworks at midnight, although for new year 2018 this changed, with a huge celebration to coincide with the very beginning of Canada's 150th anniversary party - this proved a great success so we will be interested to see if this becomes the new normal from new year 2019 onwards.
Parliament Hill Fireworks
Last new year an extra special party as it marked the start of the country's 150th anniversary celebrations in the form of a new year party on Parliament Hill, with live music and entertainment throughout the evening leading up to "a pyromusical fireworks show" with fireworks accompanied by music tracing the 150 year history of Canada. There was also be the lighting of a cauldron at Ottawa City Hall on the Marion Dewar Plaza.
Sparks Street NYE Concert
The main event previously has been will the Sparks Street event free outdoor concert centred on Sparks Street and Metcalfe Square with the midnight climax of a maple leaf drop, this was last year superceded by the nearby 150th anniversary party so we'll let you know which event will be moving forward into 2019 as soon as we hear confirmation.
Hogmanay Landsdowne Park
If you're going to be in Ottawa this new year's eve there is also a big fireworks display that takes place at the Hogmanay annual party organised by the Scottish Society of Ottawa, at the historic Aberdeen Pavilion at Lansdowne Park - this event attempts to emulate the big party in Edinburgh and features Scottish themed music, food, drink and dancing as well as outdoor skating.
There is an earlier fireworks display and balloon drop for the kids at 7pm (to handily coinicide with the arrival of midnight in Scotland) followed by the main fireworks display at midnight.
Parties & Events
Away from the main party, the clubs, bars and restaurants will all be vying for their share of the holiday trade. Big particular nights to check out include The Mansion nightclub and the usual big new year party at Barrymore's Music Hall, a now established event. There is also a New Year's Charity Ball at the Ottawa Conference and Event Centre.
New Year's Eve Hotels
Ottawa has some top hotels to choose from, and many will be trying top tempt in business by offering special new year deals and packages, with entertainment and gala dinners common attractions that are utilised to this end.
You can start your search for New Years Eve local hotels here.
NNYE Live Streaming, Webcams
Canadian broadcaster CTV typically cover the main NYE celebrations live - you can watch this online, but you will need access to an existing live subscription:
There are also some webcam views in the centre of Ottawa, an intersting viewing alternative, especially for the midnight fireworks:
Latest NYE News
The content on this page is written and maintained by Martin Kerrigan. If you have found it useful then please feel free to share it with your friends and family. If you have any comments or events to add to this page please Contact us.