Oklahoma City New Year's Eve 2019
OKC NYE Opening Night fireworks, parties, hotels and events for new year 2018-2019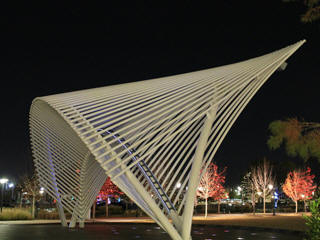 Opening Night is the main new year's eve party in Oklahoma City, drawing large crowds to downtown OKC for a festival of fun and entertainment culmination in a spectacular fireworks display.
The Opening Night event isn't the only show in town though, there are a number of fabulous new year parties and events to choose from, while city's top hotels give a great range of accommodation choices.
Opening Night 2019
Opening Night Oklahoma City returns once again this new year's eve, organised by the Arts Council of Oklahoma City and helping the town welcome the new year since way back in 1987.
Downtown is the focus of the event, and there are a selection of food trucks in Finale Alley throughout the evening, while live entertainment takes place from 7pm across a number of venues, including Civic Center Music Hall, Oklahoma City Museum of Art, City Hall and the Ronald J. Norick Downtown library.
The main stage or Finale Stage is in Bicentennial park, and this is where the headline acts perform and is also the site for the spectacular fireworks display when midnight arrives.
You do need to purchase a wristband to be able to attend the Opening Night events - these are available from several locations across town and also online - we'll have the link here for online sales as soon as it's made available.
Opening Night Finale 5k
Technically also a part of the Opening Night event, the Finale 5k, previously the Festive 5k, gives people a chance to blow away some cobwebs before the main events get underway.
The new year's eve 5k run is a light hearted event with costumes and a relaxed atmosphere rather than a serious race, and as a bonus those who take part get a free wristband for the evening party! The race starts at 3pm at the main Finale Site, next to Bicentennial Park.
OKC MOA NYE
The Oklahoma City Museum of Art host their annual new year's eve events, representing one of the venues that make up the Opening Night celebration.
There will be live entertainment from 7pm-11pm including special displays and performances. Admittance is included with your Opening Night wristband.
Skate Galaxy New Year's Eve Bash
This looks like a great way to see in the new year, get your skates on and head down to Skate galaxy for their new year party. This is a family friendly event and includes party favours, special prizes and a balloon drop at midnight.
Get more details and buy tickets online here.
There will also be many top parties at the city's many top hotels and restaurants, we'll have more details on these as they are announced.
New Year's Eve Hotels
There are many top hotels in Oklahoma City, and most will be offering special new year packages to try and tempt you in, often including a gala dinner and live entertainment along with your accommodation.
Top recommended places to stay include the Sheraton Oklahoma City Downtown, 21c Museum Hotel, Ambassador Hotel Oklahoma City and Aloft Downtown in Bricktown.
For availability and reservations at these and all the top locations you can book local hotels here
NYE Live Streaming, Webcams
TV coverage of the Opening Night celebrations will be at a premium with most networks concentrating on the ball drop party in New York, but there are some webcams located in the downtown area that can help you get a look at what's going on during the new year festivities:
Latest NYE News
The content on this page is written and maintained by Martin Kerrigan. If you have found it useful then please feel free to share it with your friends and family. If you have any comments or events to add to this page please Contact us.