Niagara Falls New Years Eve 2019
Fireworks, Events,
Live Stream

, Parties, Hotels, Concerts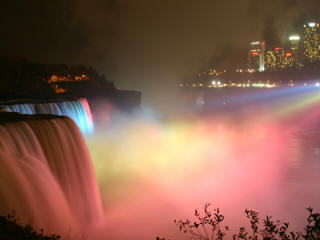 There aren't many new year's eve venues where I'm not sure which country to include them in (well, to be perfectly honest, this is the only one so far!) but with Niagara Falls sitting right on the border between Canada and the United States this was a tricky choice.
The Canadian side has the town of Niagara Falls, while on the US site, in New York State, there is the Niagara Falls State Park, so they both have a reasonable claim.
In the end, this being a new years eve site I've had to make the call based on who makes the biggest deal of their NYE events, and in this case the clear winner was the Canadians of Ontario, who have the Winter Festival of Lights as the centre point of their new year party, and as this event lasts almost 3 months in total right through the winter months I figured that had to give them the edge!
Things to do
The biggest event in the area by far is the Niagara Falls New Years party in Queen Victoria Park. This free public event gets underway at 8pm and provides live music and entertainment with the Niagara Falls New Year's concert taking place throughout the evening, leading up the huge fireworks display at midnight, launched from the Niagara Gorge.
A crowd of around 60,000 is expected in Queen Victoria Park for the event so make sure you get there in plenty time! The live performers this year will be High Valley, Serena Ryder and Sam Roberts Band as well as local band James Blonde to get the party started.
For the last couple of years now Global TV, who had previously been the main sponsor and broadcaster have pulled out of supporting the show, meaning no live TV coverage and a very much reduced budget. Organisers have though promised a return to former glories for new year 2019, although once again there seems to be a lack of a significant media partner, so while the show may go on it looks unlikely to be televised again, unless a late deal can be put together.
For the fireworks, there is actually a smaller, family show at 9pm but the main event is reserved for the stroke of midnight, with launch points on the Skylon Tower, in the Niagara Gorge and actually above the falls themselves, about as spectacular a backdrop as you could wish for. There are actually fireworks shows in Niagara falls throughout the holiday season so you don't need to necessarily be there over new years to see some pyrotechnics.
There is a big event at The Conference & Event Center Niagara Falls in the shape of the Old Falls Street's Family Fun New Year's Eve celebration. This party includes music and dancing, childrens' entertainers and a countdown and balloon drop at 10pm. get more details and tickets here.
The bars and nightclubs of Niagara Falls also do their but to add to the range of parties on offer and top venues will be competing to draw the younger crowd - there are big nights this year at the Dragonfly Nightclub, Scotiabank Convention Centre, Blush Ultra Lounge, Coco Cobana and Club Se7en.
If you're looking for new year dining options then there are plenty of restaurants to choose from on both the Ontario and New York side of the falls. Top recommendations include La Galera Mexican, Fortuna's, Casa Mia, Koutouki Greek Cuisine, Zaiki Indian (where there are plenty of veggie options) and Donatello's. See the full range of restaurants here for Ontario and New York.
NYE Live Streaming, Webcams
Places to watch live online: there are several live webcam views in Niagara falls which help take you live to the heart of the new year party. Our favourite by far is this fantastic live streaming view provided by EarthCam:
The new year's eve celebrations from Niagara falls have previously been broadcast live on TV by Global Live, and last year attracted a total viewing audience of almost 5 million, but unfortunately this year they have chosen to end their association with the event which means national coverage is unlikely.
We will be keeping our eyes open for any last minute changes of heart though, with organisers said to be investigating the possibility of a new social media partner to bring the show to a wider audiencen via a different platform.
New Years Eve Hotels
If you're planning on visiting Niagara Falls over the New Year period, then be aware that is will be exceptionally busy so you need to make your reservations as early as you realistically can. You can search, check availability and book local hotels here.
Latest NYE News
The content on this page is written and maintained by Martin Kerrigan. If you have found it useful then please feel free to share it with your friends and family. If you have any comments or events to add to this page please Contact us.