Nelson New Year's Eve 2019
Fireworks, Events, Parties, Hotels, Restaurants, Concerts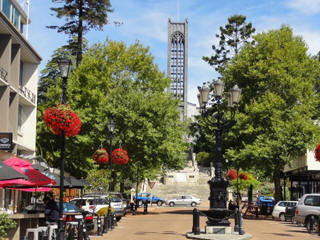 Should you find yourself in New Zealand for the New Year then you might want to take advantage of some of the outdoor activities that are on offer. Those who love to get out there and explore can opt for a flightseeing trip, where you jump on a helicopter and peruse the stunning national parks in the area all from a birds eye view! Take a drive up to the stunning beach of Golden Bay for scenic walks and breathe in the fresh air as you marvel at the wonderful landscape.

Get on your bike and hit the Great Taste Trail which will have you cycling through beautiful coastal and inland areas including vineyars and orchards. The loop is 174km long and can be done in small chinks here and there, depending on what you'd like to see.

If you have skydiving on your bucket list, this is definitely somewhere you should consider taking the jump. With glorious view over Abel Tasman National Park, you can see New Zealand in all its glory.

Nelson is a great place for the art lover so you might want to visit some of the city's local galleries and markets to see beautiful paintings, sculptures, jewellery and much more besides. Those who love their jewellery, and are fans of Lord of the Rings, might want to make a beeline for Jens Hansen, where the "One Ring" from the film was made. You might just want to buy your own "precious".
Things to do
New Years Eve in Nelson sees thousands of people heading to the Church Steps at the top of Trafalgar Street for the New Years Eve Countdown and fireworks show. There's live music as bands take to the stage to entertain the crowds and people dancing and enjoying the party atmosphere. There is entertainment in the square from 5pm and is also a great place for families. There will also be food trucks nearby to keep you well fed.

The bars and restaurants in Nelson will have some great events planned, check with the venues closer to the time for ticket information or to make your reservations. The cafes and bars on Trafalgar Street will also be open for business, but they will be very busy!

Just head to the waterfront to get a great view of the pyrotechnics

Nelson has quite a few fabulous restaurants to choose from during your stay, remember that New Years Eve will always be a busy evening, so book your table well in advance:

Hopgoods
Harbour Light Bistro
Smugglers Pub and Cafe
The Styx
The Tides Restaurant & Bar
NYE Live Streaming, Webcams
No live webcams at the moment, but we'll keep checking.
New Years Eve Hotels
Nelson has a good choice of accommodation for your New Years Eve stay, it's likely they'll book up quite quickly as this is a popular destination so get your reservations as soon as possible:

The Sails Nelson
Grand Mercure Nelson Monaco Apartments
Saxton Lodge
Rutherford Hotel Nelson
Palms Nelson
You can search for deals at all of these venues, plus other local hotels here.
Latest NYE News
The content on this page is written and maintained by Yvonne Kerrigan. If you have any comments or events to add to this page please Contact us.