Moscow New Years Eve 2019
Fireworks, Events, Parties, Hotels, Concerts
Moscow, Russia, 31 December 2018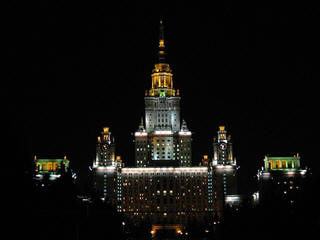 Moscow is another one of those destinations that features quite prominently on my personal bucket list of potential new year's eve destinations, largely due to the wintry weather conditions that are certain to prevail at this time of year - I just find that everything seems much more festive when there's a decent covering of snow on the ground and a sharp bit of frost in the air!
The people of Russia are renowned for embracing any excuse for a party, and new year is no exception, with the bars, clubs and restaurants all vying to throw the biggest and brashest party, while the prominent historical buildings and monuments of the iconic Red Square provide the perfect backdrop for spectacular midnight fireworks. At a time of some upheaval for the country and it's neighbours it's reassuring to know that some traditions will always stand the test of time.
Things to do
In Moscow for new year's eve 2018-2019 it's all about the midnight fireworks in Red Square, and these are the iconic images that will be broadcast around the world the next day, with the backdrop of The Kremlin, Lenin's Mausoleum, Saint Basil's Cathedral and the Kazan Cathedral offering one of the most spectacular settings you will find anywhere in the world.
Adding to the atmosphere of the occasion are the sub-zero temperatures and high likelihood of a decent covering if snow, which create a winter wonderland effect for reflect the lights of the huge Red Square Christmas Tree as well as the spectacular fireworks - if you're spending your new year in Moscow then it should go without saying that you need to wrap up very warm!
If you're wary of the raucous crowds in Red Square, then why not take a wander along the banks of the city's iconic Moskva River to find a more secluded spot - there are plenty of more obscure vantage points from where you'll be able to get a good view of the fireworks in a more sedate setting.
Away from the family friendly party in Red Square, there are a multitude of bars and clubs in Moscow that will be competing for the new year trade, and the vast majority will be packed so it's sensible to book your tickets in advance. Some of the most popular venues include Bar Belka, Electrosvet, GQ Bar, Kino, Rai and Propaganda, while if it's views you're looking for to watch the fireworks then the Sky Lounge has to be the top choice. Find details for all the main nightlife venues here.
For dining options then you are more than spoiled for choice, with over 5000 eateries spread across the Moscow metropolitan area, with all major international cuisines catered for, as well as most budgets (there are some eye-wateringly expensive venues, so best check the menus before booking!). Most popular places include Rybniy bazar, Hachapuri, Tetri, Turandot and Chemodan. View the full range and make online reservations here.
NYE Live Streaming, Webcams
This live webcam stream comes direct from Red Square, from one of the best vantage points in the city, giving you a front row seat for the fireworks:
New Years Eve Hotels
Moscow has an increasing range of high end hotels which in relation to other major European capitals are quite reasonable priced, although do remember there will be the holiday premium to take into account.
Allow plenty time to navigate customs too, and make sure you have familiarised yourself with the visa requirements, which can be daunting and are surprisingly pricey. For a full range of Moscow accommodation, visit local hotels here
Latest NYE News
The content on this page is written and maintained by Martin Kerrigan. If you have found it useful then please feel free to share it with your friends and family. If you have any comments or events to add to this page please Contact us.