Monterey New Years Eve 2019
First Night, Events, Parties, Hotels, Restaurants
Monterey, Big Sur, California, 31 December 2018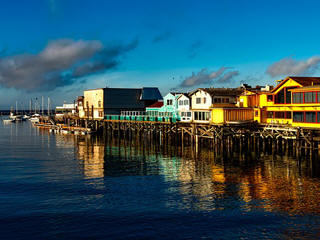 Monterey, sitting is a prominent position right a the northern end of the famous Big Sur in California is another popular new year's eve destination, with the signature event being First Night Monterey, a popular community and arts based celebration that lasts throughout the day on new year's eve, right through until midnight.

If you're spending the festive season in this beautiful part of the world then there are also a range of sights and activities to help keep you occupied, including of course driving the Big Sur section of the Pacific Coast Highway (be sure to check conditions before adding this to your itinerary, they keep losing sections of it to landslides!), Monterey Bay, the Pinnacles National Park and the Old Fisherman's Wharf.
Things to do
First Night Monterey is the big party in town, taking over the street of the historic downtown area from 3pm in the afternoon on 31 December and continuing right through the day and evening to midnight.

Highlights of the First Night celebrations include:

- Opening ceremony at 3pm at Colton Lawn stage on Pacific Street

- Kids Night Out! Celebrations from 3.30pm with art activities, folk music, puppet theatre and many more interactive installations

- Twilight Procession at 5.30pm

- Live music performances at various downtown venues throughout the evening

- The Grand Finale gets underway from 11.15pm – there is an outdoor finale on Alvarado Street running parallel with an indoor event at the Golden State Theater. Note that a separate ticket is required for the indoor finale.

You need a button for admission to the various events. The buttons go on sale from November and it's cheaper to buy them sooner rather than later as early bird prices apply. You can buy your buttons via the official event website, which also has a full up to date schedule of all of the First Night activities:

First Night Monterey

Away from the big main event there are many top restaurants in Monterey to accommodate your new year's eve dining requirements, with most offering special menus for the occasion. Top recommended places to try include Schooners Coastal Kitchen & Bar at the Monterey Plaza Hotel, TusCA Ristorante located at the Hyatt Regency Monterey, C restaurant + bar and The Sardine Factory.

There is also a big new year party this year at Portola Hotel & Spa at Monterey Bay, where the 60's style Let's Groove Tonight event gets underway at 7.30pm and offers dinner, dancing and live music in the Grand Ballroom – tickets are available here.
NYE Live Streaming, Webcams
There are several live webcams in the area, although we haven't been able to find one where the main new year parties are it's still nice to check out the local scenery:
New Years Eve Hotels
Accommodation options are somewhat limited with this being a small town, and places book up quickly so make sure you make your reservation well in advanc eif you're planning on staying over.
To check availability and make reservations at all the top hotels in the area, you can visit local hotels here.
Latest NYE News