Mobile New Year's Eve 2019
Fireworks, Events, Parties, Hotels, Restaurants, Concerts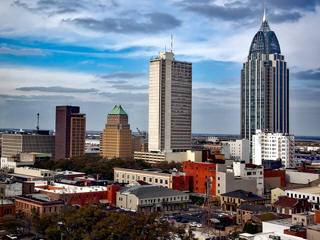 Mobile in Alabama hosts one of the quirkiest new year's eve parties anywhere in the world with their now famous Moonpie over Mobile event, which includes all the usual new year party suspects such as fireworks, music and dancing, but also adds into the mix the dropping of an electric moon pie (or MoonPie to use the properly branded term!)
There will be huge crowds in town to watch this event, so if you would like an alternative to the traditional ball drop then this is the place to head for!

If you're in Mobile over new years then you may as well make the most of the visit by checking out some of the city's other popular attractions – these include the USS Alabama, Old City Hall, Oakliegh Historic Complex and the Mobile Museum of Art.
Moonpie over Mobile
The big party in town is of course MoonPie over Mobile, a public event that attracts crowds of tens of thousands down to downtown Mobile on new year's eve and recognises, as it is important to do so, the importance of the humble moon pie in American culture.
The MoonPie referred to in the event title is the 600 pound electric version that is dropped at midnight, accompanied by a spectacular laser light show and fireworks display.
This isn't the only moon pie at the event though, there is a real, edible version prepared earlier in the evening, on a large enough scale that evereyone can grab a taste - head down to the Renaissance Riverview Plaza Hotel Courtyard at around 9.45 pm to make sure you don't miss out.
After the moon pie cutting (and eating!) there is also a new year's eve parade - the second line parade starts at around 10.15pm and heads from RSA Tower to Bienville Square, where there is a Main Stage set up for live music to bring the party all the way to midnight. Now this is a city that knows how to host a new year's eve party!
Restaurants
If you're in Mobile for the new year events then you're going to want to find somewhere decent to eat, and there are plenty of options to chhose from. Top rated eateries include the Kitchen on George, Half Shell Oyster House, The Royal Scam and Dauphin's. See the full range of Mobile restaurants, many with online booking options, here.
NYE Live Streaming, Webcams
There are several live webcams in Mobile you might want to check out to bring you close to the action on new year's eve:
New Years Eve Hotels
There is plenty of accommodation to choose from, and prices tend to be relatively reasonable. The usual caveat applies though - book in advance!
You can search for deals at all the main Mobile local hotels here.
Latest NYE News
The content on this page is written and maintained by Martin Kerrigan. If you have any comments or events to add to this page please Contact us.