Minneapolis New Years Eve 2018
Fireworks, Events, Parties, Hotels, Restaurants, Concerts
Minneapolis, Minnesota, 31 December 2017, Midnight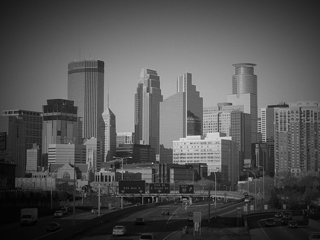 Minneapolis offers a great range of new year's eve parties, with a range live music, large scale public events as well as many, many private parties at the city's top bars, restaurants and clubs. If you like to dress up and see in the new year in style then this could be the place for you.
New Year Fireworks, Events, Parties
As with most big US cities there is a big public event to celebrate new year's eve, and in Minneapolis this is the Crystal Ball event in the city's central International Market Square. Celebrating their 14th year in operation, it is one of the largest New Year's Eve events in the country. With attendance over 3,000 people, you can be sure it will always be the best way to ring in the New Year. The 2018 Crystal Ball will feature LIVE music, multiple DJs, Go-Go Dancers and more. The NYE 2017-2018 party gets underway at 8pm and features live music and entertainment throughout the evening, leading up to the countdown at midnight.
The event is open to the public, but guests must purchase a ticket for entry. There is high possibility of selling out so it is recommended that guests buy their tickets well in advance - you can get more details and secure your tickets here.
Away from the big public party, one of the top new year events in Minneapolis this time aorund is the huge Snowta NYE music festival taking place at the Minneapolis Convention Center.
This is a 2 day EDM festival running on 30th - 31st December and has a top lineup including Pretty Lights (playing the 30th, he's in Philadelphia on the 31st), Gucci Mane, Post Malone, and Ganja White Night. Tickets are available online here.
There are several other big new year parties taking place in Minneapolis this new year's eve - some top choices include:
Countdown Mineapolis at Minneapolis Club Event Center, with 2 dance floors, 5 top DJs, 2,400+ happy humans and 5 sold out years! Tickets available here.
Uptown NYE 2018 at Urban Eatery. This award-winning venue paired with top DJs will make for a great party. All of that along plus affordable prices for tickets promises to make this a New Years party! Ticket sales here.
Ritual New Years Eve 2018 at The Calhoun Beach Club Event Center, with Top DJs, Multiple Rooms, 2 Dance Floors, 21+ VIP options available - tickets here.
Magic 24K NYE at the Hyatt Regency Minneapolis. Now in its 12th installment, the Twin Cities' party of the year returns with MAGIC: 24K New Year's Eve. Over-the-top production, a fun party atmosphere and an element of surprise are the hallmarks of an unforgettable experience that only NYEmpls can provide. Attendees can expect curated beats cut with a twist of the unexpected in thrilling performances and state-of-the-art audio and visual experience - get your tickets online here.
Glitz and Glam 2018 at Stella's Fish Cafe. It's your opportunity to dress up, or dress crazy all while having the night of your life - full details and tickets here.
The last couple of years have also seen the return of the Minnesota Orchestra's New Year's Eve Celebration at Orchestra Hall, with gala dinner followed by the live performance - ticket details to follow.
Elsewhere there is always fierce competition among the city's clubs and bars to hold the loudest and liveliest party, which means plenty nights out to choose from - this year's top party venue selection includes Elixir Lounge, The Pourhouse and the Epic Event Center
if you're looking for somewhere to eat out on new year's eve, whether as part of a quiet social evening with friends or as precursor to hitting one of the big parties, then Minneapolis has plenty of choices. Top rated venues include the famous SEVEN Steakhouse, Hell's Kitchen, Gorkha Palace and the Capital Grille. Us veggies are well catered for by the Ecopolitan Restaurant - see the full range of local restaurants and cafes here.
NYE Live Streaming, Webcams
Places to watch live online - there is a decent selection of webcams in the city, including a few with good views of the skyline which should offer some good shots of the fireworks across the city at midnight:
New Years Eve Hotels
If you're planning on visiting Minneapolis over the New Year period, then it will be exceptionally busy so you ideally need to be making your reservations as early as you can. You can search, check availability and book local hotels here.
Popular Pages
The content on this page is written and maintained by Martin Kerrigan. If you have found it useful then please feel free to share it with your friends and family. If you have any comments or events to add to this page please Contact us.